The Importance of Product Design for Mobile and Web Apps
In a mobile app development industry, design quite often becomes a vague, inexact term. When someone says they want to hire a designer, you never sure if they mean a person who deals with product interfaces, or a professional who outlines the way how a user should act within an app, or they seek a designer just to draw some icons or make up animations.
In fact, product design has a more complex part in app development.
Design is the foundation of your product and the key to achieving your business goals
The ultimate success for any product - mobile and web apps included -  is to achieve the established business goals, which is impossible without a user's engagement with the product. In this situation, the key to achieving user engagement and, ultimately, your business goals is product design.
Product design is a system that connects user interface, user experience, graphics, and motion. Combining all these elements, a product designer creates visual language, a universal communication medium that will - if used right - drive your product's both production and marketing success.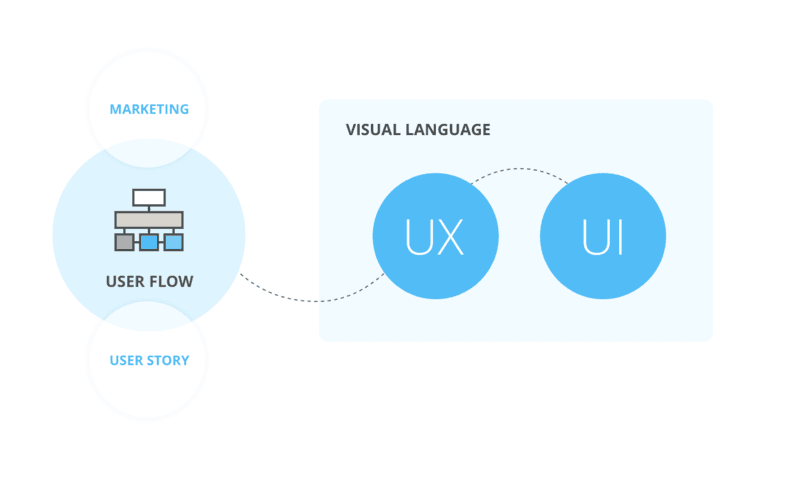 The best product design lies within finding the balance between marketing needs and user desires, and, thus, outlines the shortest path to solving user's problem. To achieve this, a product designer must make sure that an app:
is easy to comprehend and use
solves your business objectives and answers target user's needs
has a unique visual appearance.
Finding this balance and, finally, delivering such a product is a laborious work for the whole development team, that is based on making numerous tough decisions on both small and big ideas.
We at Agilie believe that a truly successful app is the one created with designers' participation at all stages - from outlining the initial concept and business plan to marketing and support.
How exactly design contributes to your app's ultimate success
1. Design establishes communication and helps define app's competitive advantages
From the earliest stages of app development - requirements gathering and project planning, - the client and the design team tightly collaborate in order to crystallize the vision of the final product and find the shortest and the most resource-effective path to implement that vision.
Designers carry out the market analysis and gather data on the target audience and competing products. This information helps the team:
1) ensure user engagement
2) make a product unique and create a new niche on the market.
"Design is a collaborative effort between designers, manufacturers, distributors, and consumers" - says Kim Colin, Industrial Facility co-founder, and we at Agilie are totally up to this idea. 
2. The design makes an app simple and accessible
Very often, speaking about the importance of simplicity in product design, people point at Apple products as examples. At the first glance, it seems that Apple's solutions have no complexity behind them, but, in fact, they are results of tough and sophisticated decisions.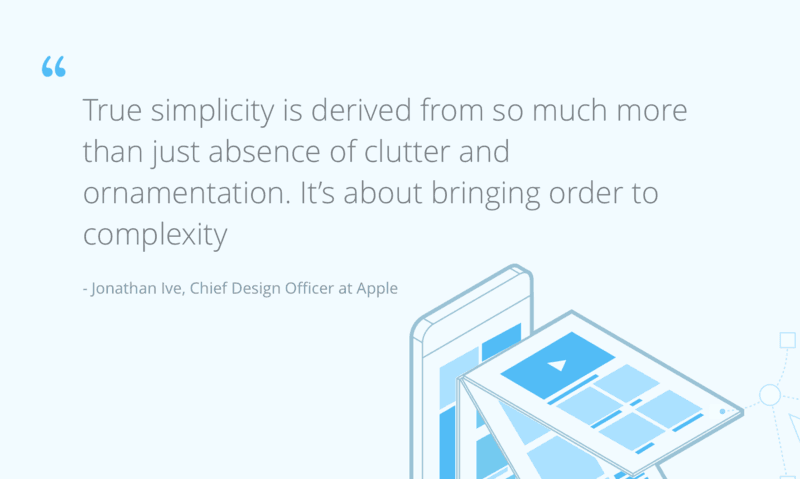 In product design, simplicity isn't just visual minimalism. Simplicity is ensuring that a user understands easily how the app works and gets engaged with it fast. And it's a designer's work to find a key to a product's simplicity by cutting off everything that clutters the user experience. 
3. Design helps avoid failures
The design is also an effective risk-control solution. Designers are experts in user behavior within apps and know how a user experience should be built. They also understand the market's competitive environment and can distinguish potentially winning and losing decisions in advance.
Building a user-product interaction step by step and carefully analyzing user feedbacks, designers can adjust the product changing its features according to users' needs and, thus, increasing its desirability.
4. Design engages and retains users
A recent report by Localytics shows that due to so-called "engagement crisis", 75% of app users across all industries churn within 90 days. The only way to retain users in this situation is enhancing the user engagement with an app. Here are some tools used by designers to engage users.
Onboarding. The first impression is the strongest one. Onboarding screens are designed to explain to users how the app works, motivate them to get started, and show them they are being appreciated.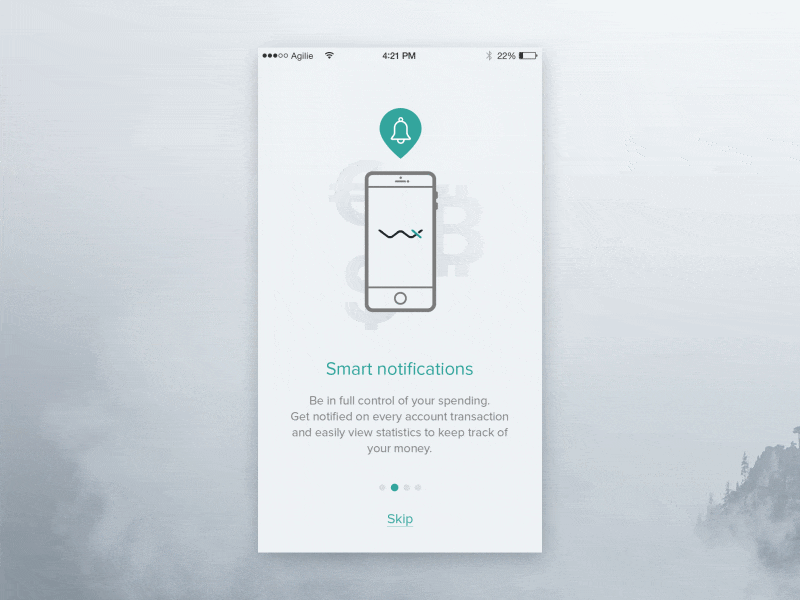 An onboarding animation for financial app Wirex, by Lina Lysenko, a UI/UX designer and animator at Agilie
Offering a new activity. These activities depend on the type of your app, but you can see the basic examples in almost every app on the market. It can be an offer to interact with related content or to write something in clear fields or to complete another.
Gamification elements. Activities that lead to earning the rewards address to peoples' natural competitive spirit and inspire users to come back quite efficiently. A product designer's objective here is to find a way to wake this competitive spirit in their users.
Notifications. While some suggest that notifications will replace user interfaces in the nearest future, even now they are your most trustworthy ally in the user engagement process. Notifications are direct calls to action that exist both inside and outside the app. Designers' duty here is to organize notifications to be precise, relevant and perfectly timed.
5. Design shapes your product's identity
When creating an app's unique look, designers are focused on empathy - one of the main triggers of user engagement. They can make your app stand out with only a few subtle details: well-chosen colors and interactions, and catchy icons that will distinct your app from others. Just look at Facebook's "likes" and Tinder's "swipe left": they have already become brands themselves.
Even such a small detail as a mascot can become a face of your app and a brand trigger. For example, think about Snapchat's Ghostface Chillah, Twitter's Larry the Bird, Android's Bugdroid (yep, these are their actual names), and you'll realize you can't imagine these brands without them.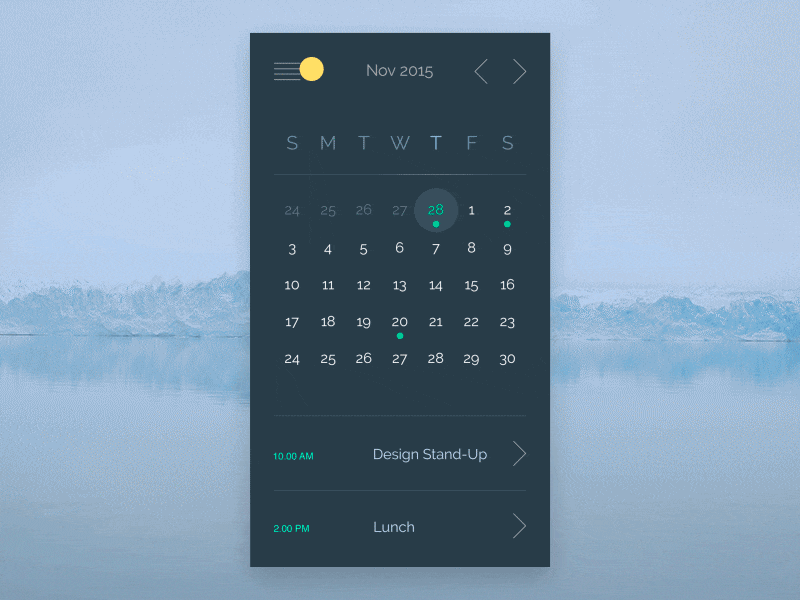 Event app concept by the Agilie Design team
6. The design saves your resources
At last, a thoughtful product design will save you time and money during the app development. 
The more effort is put into pre-production activities such like market and user research, building up a target user persona and user stories, creating prototypes and gathering feedbacks, the less time your app will need for development, quality assurance, and support activities. 
Our lives are shaped by design, though it's not always obvious. The general function of design and the purpose of any app is the same: to simplify peoples' life. Thus, all ideas and technologies that you want to stack your app up with must be delivered to users properly - in a usable and intuitive form. And design is a key to finding that form.
by Alexander Demidov, art director at Agilie and Rustam Tagiev, writer
Rate this article
15 ratings, average 4.80 of out 5