Complete Guide on How To Build a Product Roadmap for Your Startup
Let's imagine you have an idea for a stunning digital product, and you know it's worth pursuing. You've already spent a lot of time and effort to make sure it's relevant and in-demand: you've conducted market research, analyzed the data obtained, worked out competitors and target audience, compiled a list of features, found investments, and the like... and now you know that with the right approach, you'll have every chance to succeed. But what is the right approach?
When asked we say: the right approach is the reasonable planning of all the activities of the team working on the project. That's where a startup's product roadmap comes in handy; its purpose is to help you figure out what you have to do and when.
Don't believe when they say it's useless. A roadmap is an invaluable tool to launch a new product or improve an existing one.
Let's delve into this topic, shall we? We have a lot of information to share with you.
What is a Product Roadmap

?

A roadmap is the overall planning and prioritization of your project's deliverables, as well as its key milestones and goals. It is designed to visualize the strategy of the company and/or product.

Most importantly, the roadmap answers questions about what should be done in order to achieve a certain goal, who should do it, and how. It also determines the priority of tasks and describes the resources involved.
What does a

product roadmap look like?

A roadmap is a special document (file) that looks like a table or graphic and illustrates a certain sequence of actions. We're talking about the visualization of work processes: what and how employees should do in a given situation and in what order.

The roadmap must be simple and clear, which is why many go with a multi-colored table option.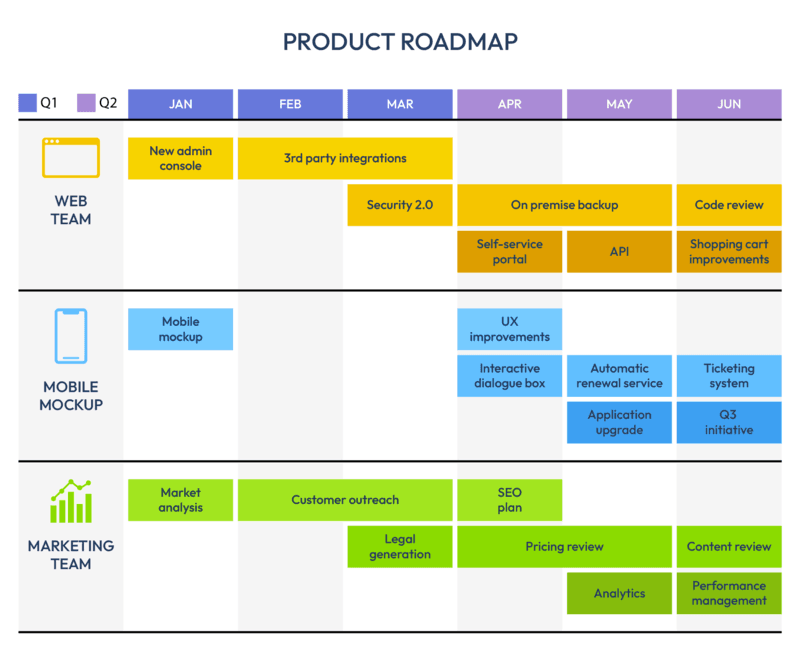 Why Does Your Product Need

Roadmap Guides?

Roadmaps are a flexible and convenient tool, which allows you to structure and optimize a lot of separated processes, turning them into a single coordinated system that is easy to work with. They can be used in marketing, IT, sales, finance, project teams, and more.
Reasons to

create a roadmap:
Plan visualization. We better perceive and remember what we see with our own eyes. So visualized plans help you focus on striving toward your goals.

Better communication. With a Roadmap, you get the opportunity to communicate the idea to each team member more easily and inform them about the key stages of work.

A unified strategy vision. A roadmap is the best way to see the product or project development strategy (depending on the type of roadmap, which we'll discuss below).

Discussion initiation. In the process of building your own product roadmap, you perforce discuss your project or product and the stages of its creation.

Agreed work. And the most important thing is the synchronization of the actions of all team members.
Who is using a

goal-oriented roadmap?
Company executive. Surely, the CEO wants to understand at what stage the work is and to be able to control the process. And the roadmap is a good help in this regard.

Product owners. They resort to roadmaps to help prioritize product creation (project development).

Developers. They need roadmaps to understand what tasks to deal with in the first place, what to focus on at a particular moment.

Investors. Without roadmaps, they won't know when to expect results from the product/project they intend to invest in.

Also, by presenting visualized plans to their attention, you prove that your project is really worth the investment and you know what you are doing.
When should you

build your product roadmap?
Launching a new project. It's about a product roadmap for a startup: it's needed to plan and prioritize the further work;

Modifications. Perhaps there have been significant changes in the work of your project, sales have fallen, competition has intensified, the market has changed... whatever! In any of these cases, you should adjust your business strategy with a roadmap.

Desire to be successful. Any prosperous company uses roadmaps in its work to visualize business goals and strategic development.
Why Use a

Product Roadmap for Your Digital Startup

Imagine a typical situation: a company decided to create a digital product (website or application). Of course, its creation must somehow be combined with other business processes that won't stop just because a new important task has appeared. In addition, it would be nice to make sure the time and investment spent on development will pay off.

Therefore, you need to understand how long it'll take to build a beta version of the website/mobile app, how to allocate resources to bring your idea to life, when to start preparatory work with leads and warm up the target audience... and so on! In short, you can't do without a product roadmap for a startup to deal with all upcoming activities.

Typically, such a roadmap is a table indicating the departments involved, the phases of work required, and timelines estimated (the last one is optional). By studying this table, you can easily organize and scale up teamwork, no matter how complicated your project is.
What Should a

Startup's Product Roadmap Include?
A flawless roadmap includes the following strategic elements:
the coincidence of the strategy with the business goals (that is, whether the strategy helps to achieve the set business goals);

attracted resources: what is needed to implement the planned strategy;

functionality (features), which should be created to make the idea a reality;

implementation time forecast with an indication of critical deadlines;

metrics for evaluating success at a given point in time.
Key

Types of Product Roadmaps

There are different ways to classify roadmaps, and we want to tell you about the most popular ones.
The classical approach
Product Roadmap. The goal of a product roadmap is to build a clear plan while taking into account the product strategy. A tandem of a product owner, a development team, and, if necessary, stockholders usually work on such a roadmap.

Project Roadmap. In this case, we're not targeting the product itself, but the project as a whole. The focus is on the analysis of the project's goals and its predicted results. Roadmaps allow you to see the big picture, so to say.

Business Roadmap. These roadmaps describe the stages of achieving the company's long-term goals. It's about detailing the process of strategic business planning.

Technology Roadmap, a very interesting version of roadmaps, whose task is to plan work on technologically complex projects. The term covers IT systems, software development, cloud migration strategy, and more.
IT approach
The second way of classification deals with digital projects. Indeed, today it is difficult to imagine a company to remain successful without its own IT infrastructure. And the creation of such an infrastructure is a laborious task... so it won't hurt to build a product development roadmap to simplify the whole thing.
Strategic Roadmap. The first version of the roadmap is planning the overall IT strategy of your company. This may involve the creation of digital products, promotion & marketing activities, deployment of IT infrastructure, and so on.

Product Development Roadmap, ​​aimed directly at planning the development process.

Updates Roadmap. By updates, we mean certain features or specific releases. It isn't about planning the process of software creation, as it was in the previous case, it's about determining and dating the updates you're going to release.

Product Line Roadmap. Let's say you have a fairly extensive IT infrastructure in mind, including different digital products and platforms. In this case, you should create your own product roadmap and use it to prioritize your tasks correctly.
The Waterfall vs. Agile approach
Waterfall product roadmap. The method is rather outdated but isn't completely rejected just yet (in some cases, you can safely use it). It is aimed at strategic business planning over a long period of time, from a year or more. Low adaptability is its main drawback.

The agile roadmap describes the execution of work for a period of several months to several quarters. It is a flexible, user-centric planning approach.
The timeline approach
No-dates product roadmaps. They target companies with shifting priorities (which makes it difficult to set specific dates). This usually happens when your product is still at the initial development stage and requires constant adjustment of the strategy (so it's about startup product roadmaps). The focus is on finding a product idea, searching for first customers, or attempts to adapt the product to market requirements.

Timeline product roadmaps. Of course, the first no-dates option is by no means always effective, and then more popular roadmaps come to the rescue. The name speaks for itself: it is about a plan placed on a timeline.

Hybrid product roadmaps. The compromise option assumes you use imprecise, approximate dates and remain maximum planning flexibility.
How to Create a Product Roadmap
Since we're an IT company, we'll focus on creating a product development roadmap: one that helps in the software implementation.
Strategy formation. Of course, you should start by understanding what you actually have to deal with. Yes, it's about business goals, overall strategy, and stuff like that, namely:

What are the goals of your project?

Who will be your target audience (who will use the product?);

What metrics do you plan to achieve? Etc.

Defining the target audience of the roadmap. We've already discussed a couple of types of product roadmaps and the audience they can target. And the roadmap for the project investors will be radically different from the roadmap focusing on the development team. So first of all, decide on who is going to use your roadmap and how.

Choice of roadmap structure. Now that you have your project goals in place and your roadmap's audience defined, you can choose how to visualize it. What will it be, a timeline roadmap or a hybrid one? Do you prefer tabular or complex infographics? It's up to you to choose the best way to implement your product strategy.

Concept analysis. If you want your product to be exactly the way you intended, you need to create it in accordance with the expectations of future users. So, regardless of whether it is a new product or a modification of an existing one, you should start with a Discovery phase to identify all relevant user requirements and rank them by importance.

Compilation of a list of specific features. Now it's time to turn the discovered requirements into real product features and prioritize them.

Project scope & budget planning. Prioritized features indicate the order in which you plan to implement them. It remains to figure out how long it'll take to create each one (taking into account the deadline, budget, etc.). To be precise, you need to determine the chronological framework and supplement all releases with dates (at least approximate ones).

if you decide to go with a no-dates product roadmap, focus just on the chronology of actions;

Roadmap visualization. Now you have everything you need to visualize your strategy and turn it into an action plan.
Pitfalls You May Encounter When

Building Your Own Product Roadmap

Let's start with the mistakes to avoid in order to create a flexible product roadmap:
Incorrect roadmap update. There are two equally unacceptable extremes: if you update the roadmap almost every day and if you never update it. Both approaches are fundamentally wrong.

Lack of communication. The ability to communicate the product idea to each team member and help them stay informed about the development stage is a key advantage of a roadmap. Neglecting it would be a huge mistake.

Incorrect evaluation of features to create. If you didn't pay attention to pre-requirement analysis, as we suggested earlier when we explained how to build a product roadmap, then there is a risk of you spending time planning unnecessary features. And that's no good, right?

Too many requirements. Yes, a roadmap is good for planning development steps, but don't go overboard with details and requirements. Act gradually.

Unconsidered future. If you create a roadmap without considering the future of your project or product, don't expect good results.

Total plagiarism. Focusing on market trends and successful competitors is a smart move, but it doesn't mean 100% copying someone else's strategy. Come up with something of your own, something unique.

Excessive haste or slowness. If you build your product roadmap in a hurry, you're likely to miss something important. On the other hand, if you delay its creation, the relevance of your planning will be lost. So do your best to keep a balance.
What to consider to

create a goal-oriented product roadmap?
Correct detailing. The roadmap should be as detailed as required by the audience it's aimed at. It's a highly individualized tool.

Using color-coding. We're not suggesting that you paint your roadmap with all the colors of the rainbow, not at all. Choose a few colors to represent certain aspects of your project: in this way, one glance at the roadmap is enough to understand who and what will have to deal with in the near future.

A top-down approach to planning. Go from big to small. Plan high-level goals first, and then break them down into smaller (tactical) tasks. Simply put, keep a balance between strategy and tactics.

Access granted. Make sure each team member has access to the roadmap. Otherwise, why create it?

Constant communication. And finally, don't do it alone. Building your own product roadmap is a process requiring the participation of all parties involved.
Conclusion
The roadmap displays the main and, if desired, intermediate goals, the timing of their achievement, the expected economic effect, and other basic indicators.

You can and even should make changes to your roadmap, if necessary.

There are different types of product roadmaps, and which one to choose depends on the specific project.

The design of the roadmap must be approached wisely: the result has to be clear, understandable, simple.
---
Get in touch
Send us your comments, suggestions, questions, or feedback.