Earn Money Creating a Website like Flippa
Building a website or application from scratch is a tricky and time-consuming task. It's much easier to buy a ready-made resource, optimize it, and start making money on it without any extra effort. Or you can sell it for a higher price: why not?
Both of these options are quite possible thanks to the Flippa marketplace. That's why this platform is in high demand among users who are willing to earn on website flipping business. Of course, the owners of Flippa aren't at a loss too. Trust us, they get their slice of the cake, so to say.
Have we managed to intrigue you? Then we suggest reading our new article. We're going to share with you very useful and interesting information focused on creating a site like Flippa.
What is Flippa

?

Flippa is an auction-based web platform allowing you to buy and sell online businesses: websites, mobile apps, domains. So if you have a digital product to sell, you're welcome to recourse to Flippa, since that's exactly what you need.

The history of the platform began over 10 years ago, in 2009. The company has experienced its ups and downs, but today it's doing just fine: traffic is constantly growing, and every day the resource is visited by at least a million users. These people apparently appreciated all the benefits of the Flippa website and don't mind taking advantage of such a great opportunity to earn money online.

Naturally, to start a website flipping business, you have to fork out, but the game is worth the candle: Flippa provides the seller with access to a huge target audience and gives him the chance to make a good profit. You don't have to look very far to find proof of that: say, planetrx.com was sold for $ 1,200,000, and www.retweet.com was valued at $ 250,000. These are impressive amounts, aren't they?
Flippa's particular qualities
Usually, we see traditional goods or services on the marketplace website, but Flippa is quite another matter. There are online resources for sale here, and it makes Flippa a very interesting case.
What's more, each sold object, be it a Flippa domain, website, or application, is accompanied by a detailed description, including such parameters as sources of income, profitability, traffic, statistical graphs, etc. In addition, Flippa offers an advanced search engine with sorting and filtering systems.
And Flippa isn't limited to just selling digital goods; it also offers a number of services, namely:
Helping newcomers to sales (the so-called Finder service). A business like Flippa is interested in attracting more customers, which means it should help newcomers. That's why the company is ready to provide online consultations to inexperienced sellers in order to give them a number of useful recommendations on how to organize their first sale.

Cooperation with qualified brokers. If the seller wants to reduce the stress level, he can turn to one of the business brokers with whom Flippa works (among them are the American company Latona's, the world-famous LINK Business, SaleAway from the USA, and others). And these brokerage companies will take on the bulk of the hassle inevitable in the sales process.

Financial support. And finally, the owners of the Flippa marketplace help their clients financially. So if you want to buy an online business and start earning, but cannot afford it, all kinds of financial and credit solutions are at your service.
How does Flippa work

?

Okay, how does Flippa work? The basic principle is rather simple: buying a platform cheaply => improving it => selling it at a higher price. And all this is possible without leaving your home! So you get an additional source of income (which can sometimes become the main one) and no hassle.

Now let's discuss the issue in more detail. Basically, there are three options for approaching the website flipping business:
Creation from scratch. Here we're talking about building a resource from square one. After the development stage, you make an effort to popularize your website (or mobile app) and make it interesting for buyers. And when you reach a certain traffic mark, you're welcome to sell your platform (hopefully you'll get the highest price possible).

The classic approach. In the classic case, everything fully corresponds to the described scheme (buying a cheap platform, improving it, and selling it in order to maximize your profit).

Advanced level. The last way to make money using the Flippa online platform is to buy a promising resource and turn it into a reliable source of constant earnings.
Everything is clear now, right? Then it's time to go into another issue. After all, if you're serious about creating a site like Flippa, you need to know and understand each stage of its operation.
Stages of selling digital products on the

Flippa marketplace
Preparation. First of all, the authorized user must put up his "lot" for sale and fill out a profile about his digital product:

An icon, a striking title, and a concise and compelling description of the site, domain, or application.

Additional information about the digital product, including creation date, profitability, rating, financial data, etc.

Supporting information. The next block allows the seller to tell a potential buyer about his product in even more detail, to describe its potential, in other words, to convince him that the purchase would be a worthwhile investment.

Attachments (screenshots of the application or site interface, videos, etc.).

Sale. Flippa website operates on the principle of an auction where buyers make their bids; the maximum bet wins, of course.

A very important part of the auction is constant communication. The seller must quickly respond to any comments from potential buyers and answer their questions regarding his product.

Transfer of the product to the buyer. Websites like Flippa are required to be careful when transferring a product to a customer. It's crucial to avoid fraud at this essential stage. Flippa acts as follows:

Interaction between the buyer and the seller (say, through the built-in chat). The key aim is to confirm the deal.

Transfer of money by the buyer. The money first goes to the Flippa's system, which, in turn, notifies the seller of the receipt of the required funds.

The direct transfer of the site, application, or domain to the buyer (along with all the files, accesses, etc.).

Seller's receipt of funds (after the Flippa's system gets a signal that the buyer has obtained his product).

After-sales contact with the buyer (in order to answer possible questions about the operation of the site or application).
Why are people selling profitable websites?
You're planning to create a website like Flippa, but you doubt its importance and necessity... let's say, why would people want to sell profitable web and mobile resources?
Actually, there can be a lot of reasons to explain such a desire:
Foresight. Trends are constantly changing, and a site, which is at its peak today, may lose its relevance tomorrow. As far-sighted businessmen understand, sometimes the decision to sell a lucrative website is the most reasonable one. The funds received can be invested in other undertakings.

The want of money. Alas, sometimes life makes unpleasant turns, and we find ourselves in a situation of lack of money. And then we have to seek a way out of this situation, and one of them is to resort to the Flippa online platform to sell your digital product.

Fundraising for a new project. Yes, starting a new project often requires a solid investment, and website flipping business is a good solution to the problem.

Disappointment with the project. Also, an online project owner might lose interest in his product, and this has nothing to do with its profitability. Then the most reasonable thing to do is to transfer the platform to someone who would take good care of it.

Lack of time. And the last reason to sell a gainful project is the banal lack of time to support it. Yes, it's also quite possible!
How much can one make on selling sites through your

Flippa clone?

The cost of selling sites and applications can be estimated using the following formula:

Cost = E (Earnings) multiplier x 20x/30x

The specific multiplier depends on various factors such as traffic statistics, profit growth over the past few months, niche popularity, etc.

Now we'd like to discuss your project monetization, for you need to know how to recoup the cost of the Flippa clone script and get a source of profit.
Flippa Website Business Model
The company provides sellers with two key options:
Firstly, they can independently conduct sales (because Flippa is a convenient, user-friendly p2p platform offering everything needed to start selling online). If desired, they're welcome to seek advice from a special manager who will help them figure out how to properly organize the sales process.

Aso, sellers can resort to a professional broker (we wrote about such an opportunity earlier, in the section "What Is Flippa?").
Half of Flippa's revenue comes from selling online products, with domain names accounting for at least 30% of transactions. However, the company has other profit earners too, and they should be discussed in a proper manner.
Profit sources of the

Flippa online platform

Let's take a close look at what methods of monetization Flippa uses to make good money.
Sales Fees
Flippa calls them "Success Fees" as the commission is only charged after a successful transaction. Such a way to monetize is pretty obvious, and we've already mentioned it.

Listing Fees
Suppose, you're planning to list your lot using the Flippa website. To post your ad, you'll have to pay a certain fee (the so-called "listing fee").

Boost of Listings
The company also offers sellers the opportunity to promote their lot in a better way. Depending on the package chosen, the seller gets access to various additional services, such as:
Best positions in search results;

Social media advertising;

Top-level, real-time support;

The possibility to use a video feature to promote your lot;

Ad banner, placed in the most visible area of ​​the Flippa marketplace.

Premium Features
In addition, the Flippa website business model has some elements of the Freemium model, in which there are basic free functionality and special paid features.
Flippa's paid features include a listing with the extra protection of sensitive data (NDA protection) and the chance to consult with the company's experts to get advice on how to improve your lot.
Other ideas to monetize

sites like Flippa

If you really intend to create a website like Flippa, you should learn about more ways to monetize your resource. In the end, the methods your future competitor uses may turn out to be ineffective or insufficient in your particular case.
Paid registration. If you want to start receiving money immediately, without waiting for completed transactions, charge a registration fee. Keep in mind, however, that not all of your clients would be fond of such a sign-up condition.

Subscription. A very popular method of monetization, which means the user buys a monthly or annual subscription, to get access to the full platform's functionality.

Advertising. And of course, don't forget about advertising! Truly, this is a great way to monetize business like Flippa. You just need to interest potential advertisers with your resource.
Flippa Marketplace Features
Now is the time to discuss the functionality of your Flippa clone. We recommend dividing the platform's features into three main groups:
Management: features helping you manage the platform's operation.

Sale. These Flippa marketplace features include functionality targeted at digital product sellers.

Purchase. Also, you should develop features aimed at people who want to buy one or another online business.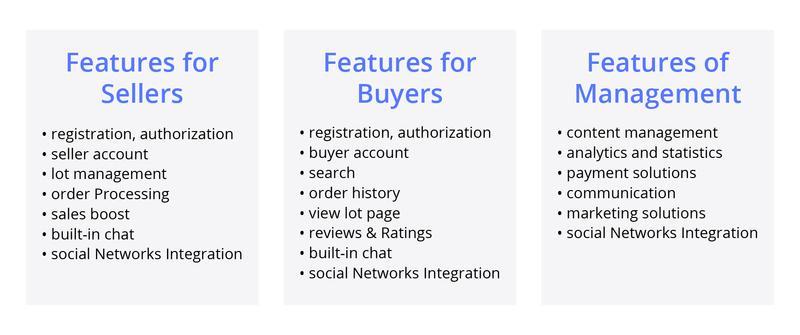 Pros and cons of the

Flippa marketplace

The platform we're discussing has its pros and cons, and you should know all of them in order to create the best alternative to Flippa, without its disadvantages (but with its strengths).
Advantages of Flippa
Post-payment. The sales commission is being charged only after the transaction has been completed.

Checking the resource. All the lots are being checked according to statistics, profitability, and other parameters. Sales won't start without such checking.

Network effect. Websites like Flippa (peer-to-peer marketplaces) have a useful quality: they initiate a network effect when the first success leads to even greater results without effort on the part of the resource owners. And if you manage to attract more buyers, there will be more sellers either. Your resource will advertise itself! That is, its users will promote it through word of mouth.

No boundaries. There are no time or geographic restrictions. The purchase and sale process can be carried out at any time of the day and anywhere in the world.

No intermediaries. Since we're dealing with a p2p system, there is no need for intermediaries (brokers). You can use their help, but only if you want.

The possibility to hide some information. Sellers are allowed to selectively provide information about their digital products by hiding some of the data.

Premium opportunities. Among the Flippa marketplace features are those that help sellers to actively advertise their lots (we've described these tools above).
Disadvantages of Flippa
Incomplete data. What is an advantage from the seller's perspective becomes a disadvantage when it comes to the buyer. Therefore, when the description of a digital product is incomplete, and part of the data is hidden, the buyer has the risk of purchasing a pig in a poke.

Difficulties at the start. Yes, Flippa offers assistance and support to new users looking to start a website flipping business, but if they have no real experience, it's not enough to succeed.

Poor language support. Alas, only people who speak English can use Flippa.
The cost of

creating a site like Flippa

Surely, it's impossible to name the precise amount you'll have to invest in the development of your Flippa clone. The budget depends on many factors, such as:
The complexity of the project, namely, the number of features to be implemented;

The rate of the development company, which is influenced by its reputation, experience, and even location (say, US developers are more expensive than experts working in Eastern Europe);

Individual requirements imposed on the product (number of supported platforms, geographic coverage, etc.);

Development approach. You can create a website like Flippa using ready-made solutions and templates, which is cheaper; also, you may order development from scratch.
Summing up, let's say: the cost of a project depends on the time spent by the company on its development and its hourly rate.
On average, creating a marketplace clone script like Flippa requires between 950 and 1700 hours of work.
However, the cost of the Flippa clone script and launching the finished platform is just the beginning of your expenses. Even when the site is up and running, you still have to spend a lot of money to keep it working at a proper level.
These post-launch costs include the following:
resource support: ongoing testing, response to user feedback, and other similar activities;

the regular release of updates. Updating and improving your platform is very important, the main goal is to follow the latest digital trends;

payment for hosting, cloud services, and stuff like that;

promotion activities. Without proper marketing, you have no chance to compete with sites like Flippa.
Hopefully, our clarifications didn't upset you too much, and you haven't changed your mind about creating a site like Flippa. Anyway, don't jump to conclusions or make hasty decisions! Correct monetization of your platform will turn all the listed costs into profitable financial investments.
Best Alternatives to Flippa
Of course, Flippa is your main competitor, but there are other players in the market as well. And they are also worth your attention.
SideProjectors
The platform is highly popular in the Western market. It sells all sorts of digital products, from cheap websites and apps to plugins and sophisticated software.
Pros and cons of SideProjectors
The good thing is that SideProjectors doesn't charge a commission for its services. But there is also a dark side of it: no one gives any guarantees of a quality deal!
However, reviews about the resource are generally good, which is quite encouraging.
eBay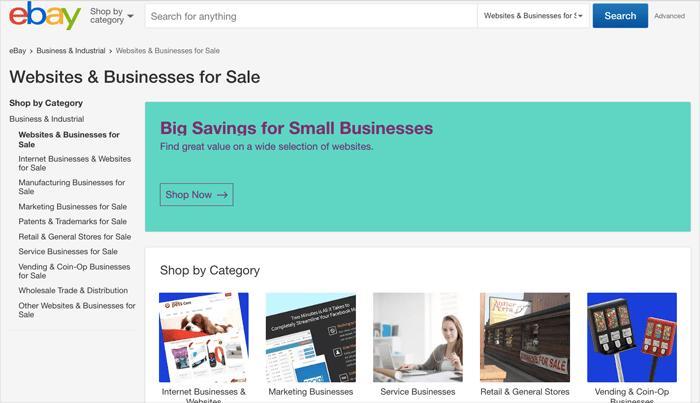 You may not have heard of the Flippa online platform before, but eBay is definitely on everyone's lips. Though, did you know that this resource has a separate section dedicated to digital content? Be that as it may, such a section does exist, and here you'll find sites and other Internet projects, put up for auction.
Pros and cons of eBay
Among the advantages of the platform are a wide selection of online platforms, a convenient sale format (auction type), and the possibility to attract a large number of customers. On the other hand, the site's flaws include poor lot verification and unreliable custom feedback (many of the reviews are false, so be careful when reading them).
Sedo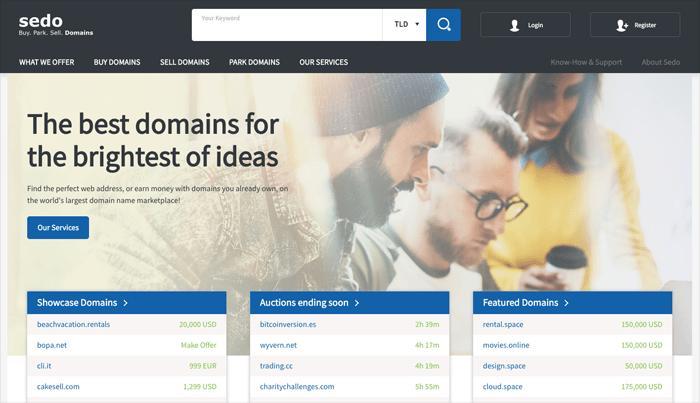 And of course, it's worth mentioning Sedo.com among the competitors of the Flippa website.
Sedo is an international project founded at the beginning of the 21st century and focused on the auction sale of domains. Here you can buy or sell domains with short and original names.
But keep in mind, Sedo has nothing to do with domain registration, it acts as intermediary offering sellers and buyers a convenient interaction platform.
Pros and cons of Sedo
The advantages of Sedo:
the company works with most of the existing domain zones;

complete security of the transaction is ensured;

Sedo invites everyone to make money by attracting more customers;

there is an opportunity to get paid consultations from the company's experts.
Disadvantages of Sedo:
you cannot purchase a website or an application using Sedo. So, in fact, Sedo.com is a competitor only to the Flippa domain section.

Sedo requires a rather high auction commission (at least 10-15%).