What is the Secret of the Catchy Product Page?
Published on:
April 10, 2022
Last updated:
March 20, 2023
Forcing a customer to click the order button is the main task of any online store. And it's not enough to make sure your goods are of really high quality. Unfortunately, even the coolest product can be spoiled by a poor presentation. That's why product page optimization is truly topical.
Imagine, you managed to convince the consumer of your goods' benefits, you've spent a lot of money on promotion and advertising, a potential client visits your site, he is more than ever close to the goal. A couple of minutes, as you hope, and he'll make the action you want him to do, that is, - he'll buy the desired item... but nothing happens! The reasons for this outcome may be a lot, and one of them is an amateurish product info page.
Therefore, we, as experts in the development of e-commerce sites and mobile applications, want to tell you about building product pages focused on making money. We'll describe the best way of influencing consumer behavior on product pages.
Product page checklist
Building a successful eCommerce business means the need to think through every detail, even the slightest one. And a product information page is not the last place in the must list. Perceiving the issue as a mere nothing, you're making a great mistake. So don't be lazy, take the time to carefully consider the product sales page features. With the skilled approach, the result might even exceed your expectations.
Let's see how to make your eCommerce product pages able to enhance your customers' buying activity. Namely, what is a perfect product page?
Show your product like the Oscar nominee
It is generally believed that people are conventionally divided into visuals, audials, and kinesthetics. Perhaps it's true, but we all become visuals when it comes to online stores - we cannot touch the desired product, we can only see it. And it makes images an important e-commerce tool.
And it's not enough to have adequate product pictures, you need to provide potential buyers with colorful 360-degree images showing the product from different angles. Even if it is a drill or something similar and seemingly boring.
Things to consider when choosing

product pictures:
allow consumers to view the goods from all sides;

show the package if it is beautiful (and try to make it so, this is half the success);

if it is a question of clothes, jewelry or shoes, demonstrate the goods on the person and separately;

if it is domestic appliances, add an operation video. Among other things, such a video

helps customers to assess how functional the product is.
The image should cause 100% confidence in the product. If a person doesn't fully understand how the thing would work/look, he may choose your more provident competitor instead of you.
So don't forget about pictures while optimizing product pages.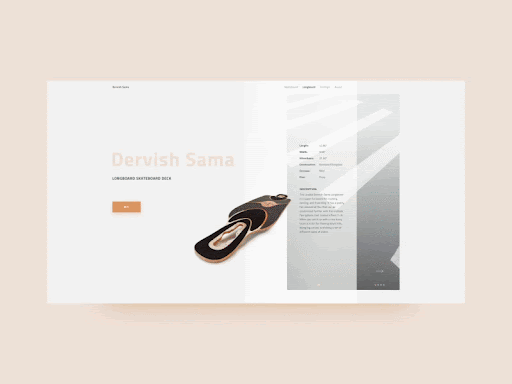 And this online store concept is for your product page design inspiration. Hope, you'll like it!
Discounts first
Attracting customers using discounts is a great idea if approached properly. People love discounts and all sorts of profitable offers and react to them with great enthusiasm. And this, as you know, also affects the desire to make a purchase.
Discount options:
discounts provided under certain conditions (say, when buying a second unit of goods);

price reduction (suppose, 70% of the initial price) - if goods are items from the previous season's wardrobe collection or something like that;

special offers when dealing with registered users.
If you are ready to please your customer with some interesting discounts, let him know about it. He should see on the product detail page that he can save a lot when buying the item he wants to have.
Among the e-commerce product page best practices, we'd like to mention iHerb. Look how hard the site owners work to describe all the benefits customers receive when making this very purchase! The consumer won't have any chances to doubt. He'll definitely know he is saving money, and he'll know how much.
Trust is the most important. Demonstrate you're thinking carefully about the customer, show you're taking care of his well-being (including financial status). People like to feel needed. They'll appreciate it.
Remove the lifeless texts
Pictures and discounts are good for attracting attention, but the consumer is interested in seeing the powerful product description. Your task is rather delicate: you have to offer as much information as possible without tiring a potential buyer at the same time.
No one likes dry and monotonous descriptions. You can list different characteristics including length, material, weight, etc. but these details are too boring to surprise and impress anybody. On the other hand, a beautiful story about the product is able to increase your sales several times.
Compelling product descriptions

mean:
Portrait of a consumer.

Determine who he is, your potential buyer. What does he like, what does he expect? Write in a language close to him.
Benefits come first! Be sure to describe why your product is so good. And we guess it'd be best to design these benefits in the form of a numbered (or unordered) list. The list makes the text visually more appealing and allows focusing attention on important points.

Be careful with self-praise

. Benefits should be logically justified. The abundance of unreasonable epithets (like "best" and "excellent") won't sound convincingly enough unless you argue your position. If you think you're the best in something, explain why it is true.

Add additional product information

and make it special. Tell the customer something impressive concerning your product. Maybe, Kate Middleton has a dress of a similar style? Think of a similar curious fact, but do not overdo it.
Don't tire the user. The text should not be very long. Or you may provide two options: a short text extract and a complete description (let the text be scannable).

Prove it!

Perhaps, you have awards, or certificates? Or, perhaps, your product has been highly appreciated by other people (preferably famous ones)? Adding trust badges and statements, you confirm the quality of the product. Also, it can become a harmonious element of your product page web design.
Keep track of the actual data
It seems to be perfectly clear to everyone that the product information should be relevant (of course!). But, alas, the reality sometimes is not what it should have been. As a result, the customer remains disappointed.
To avoid it, check the relevance of the specified data constantly: product presence, color matching, available sizes, etc. The product landing page with inaccurate information would definitely provide the consumer with an unfavorable impression.
Let's explain by example: suppose, a user has ordered (and paid for) a yellow raincoat. And although the product detail page assures that a yellow color scheme is available, in fact, you have found out you don't have the mentioned model. So you must contact the client and convince him the red raincoat would do even better. Agree, such a buyer is unlikely to get a positive experience.
"So what? - someone would say. - The purchase is done, the money is paid!"
However, the purchase made should not be the final point. It's important to get a loyal buyer who is ready to buy more and more of your products and, also, recommend your recourse in the future.
Remember this when creating the e-commerce product page design.
"With this...also buy" or "Recommended set"
Another way to increase sales is to offer related products. Such a rule is applicable to almost any type of goods. This is how the best product page designs work.
Say, an online clothing store can offer other details of the wardrobe, which will make up a wonderful set with the clothes already selected. And when it comes to medicines or food additives, related products would be drugs that give a synergistic effect when taken together. And so on... there are plenty of ideas!
So if you are wondering how to motivate people to buy, think of creating a "similar products" section. It would lead to a stunning effect.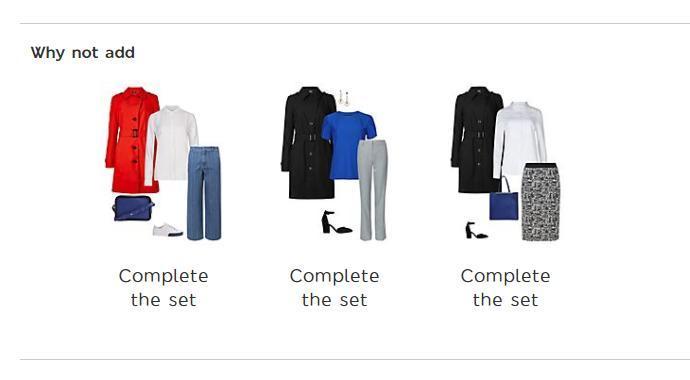 Wishlists
Sometimes a user isn't ready to make a purchase right now (maybe, he lacks financial resources), but you cannot just let him go. To keep visitors engaged, you should give them the opportunity to "store" the dream until better times, instead of completely abandoning it. By acting in this way, you still have a chance to turn the consumer into a real buyer (sooner or later). And a Wishlist feature is ideal for such purposes.
Offer your customer to add the desired product to the Wishlist - of course, subject to his registration. So you can periodically remind him of his dream being stored. And it's also useful to notify your potential customers that the goods of their interest soon expire or are being sold at a discount.
As you see now, such an approach can really boost conversions on your product pages.
Shipping Information
Creating delightful product pages, don't forget to clarify shipping details. The user wants to get not only a powerful product description but also information about ways to obtain the item he wants.
However, most people are bored and uncomfortable looking for a site section dedicated to the terms of payment and delivery. We advise supplementing your product sales page with a convenient block containing the labels of well-known payment systems and shipping services. And be sure to mention the cost!
So you immediately tell the user the main information. And he learns the other details by following the links.
Reviews
What is a product page without a review option? The review block helps the consumer to finally decide on the choice, and its absence won't produce a favorable impression. Therefore, take it as one of the must-have product page features.
But please, be smart enough and don't leave feedback about yourself - your fraud would soon open up and you'll have negative consequences instead of boosting product page conversions (as you might have expected).
And be ready to react, and do so as soon as possible. Respond to all reviews and be prepared to receive not only positive ones. Act quickly and remain diplomatic, and even negative comments won't hurt your reputation.
Responsive

product page design

We have repeatedly said in our articles that every year the number of people making purchases using mobile phones has been steadily growing. The conclusion is quite simple and clear: your site should have a responsive design. You must be sure the website product page is equally well displayed on the screens of various smartphones.

Therefore, eСommerce product info page optimization should necessarily include the adaptation stage for mobile devices. Perhaps, when creating a mobile site version, you'll have to reduce the number of details and remove some of them (given the small screen size). Another good option is to build a special mobile application aimed at online shopping.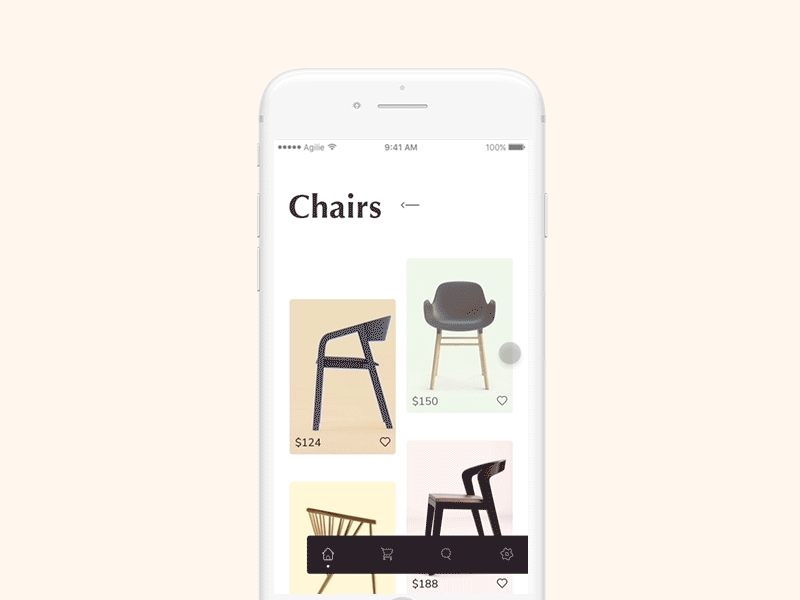 Here is one of the product page examples - a design concept our UI/UX experts have created
Will the

product page cope alone?

Definitely not. To inspire people to buy products, you should take care of the various details, of each site section.

Building a successful eСommerce business is a comprehensive solution and if you've decided to revise the concept of the design for the product page, you must redesign the entire site. It's obviously the right thing to do.

Among other things, think about the following points…
#1. Payment
Of course, the product sales page is unthinkable without a payment system, and you should organize the whole process as efficiently as possible, which means:
A minimum number of steps

, namely:

let's say, the buyer is ready to pay but suddenly discovers he needs to take too many steps. This would scare him off - as you may know, more than 20% of cases when the user leaves the shopping cart are due to an overly complicated checkout process;

in addition, you can offer a single page checkout when the key information is focused on one page. Though, sometimes it makes the payment section oversaturated with too much data.

Product Information

. A website product page, of course, contains all the necessary information, but it would be useful to repeat it here - let the buyer once again make sure everything is correct and he hasn't made any mistakes. It's one more way to inspire people to buy products on your resource.

Security Issue

. The buyer must be sure the payment process is completely safe - after all, it's about his money! So give close attention to the security issue.
#2. SEO (

eСommerce product page optimization)

Today you cannot do without SEO optimization tools. This is a difficult process, and you'll have to hire a specialist able to optimize your site so that it would obtain organic traffic. In other words, your online store will be easier to find using search queries. Otherwise, building product information pages of the highest level is a meaningless task: what is the use of it, if no one sees it?
#3. Marketing
Yes, marketing is another factor, which must not be ignored. You should think not only of optimizing product sales pages but also of your site popularization on the whole.
So you'll need to take advantage of special marketing techniques, such as promotion in social networks, advertising in search engines, and much more. But each case requires a unique approach, and, perhaps, it is best to consult with an experienced marketer - he'll give you good advice.
An impressive shopping animation concept, something special to keep visitors engaged
As you see now, creating delightful product info pages is not an easy task. And it is even more complicated by the fact you are aimed at sales and cannot take risks. Do you want to learn more about developing a website for your business? We suggest reading our article where we tell how to create an e-commerce site from scratch. You'll find there all the details you need.
And, in any case, contact us with your questions, we are always glad to communicate!
---
Rate this article
0 ratings, average 0.0 of out 5
---
Get in touch
Send us your comments, suggestions, questions, or feedback.