The Behance Featured Cinema App and Music Player by Agilie
Published on:
April 10, 2022
Last updated:
March 20, 2023

Agilie is pleased to announce that our two design projects Cinema App and Music Player are currently being featured in the UI/UX category on Behance.
The designer behind the projects Alex Volk has three biggest passions: design, movies, and music. It proves that when you are really engaged in something, great things can happen. In this case, Alex managed to design two cool projects that were appreciated by the design community.
At the moment of writing the Cinema App has 6813 views and Music Player has reached 6258 views. Both projects were designed in minimalistic and laconic style.
Music Player
We all love music and listen to it everywhere. In the ocean of music players apps available on the App Store and Google Play, it's really hard to choose the one that is the most convenient in navigation, simple and at the same time beautiful in design. There are people who don't bother and choose the default players.
Alex wanted to create a design that won't distract a user from listening to music by giving a chance to fully immerse in the music atmosphere itself, style, and mood of the app. The main concept behind the music player app was to make the navigation predictable and intuitive for the user persona.
If the user swipes left, the menu with the following actions reveals:
Shuffle
Repeat playing track
Like
Volume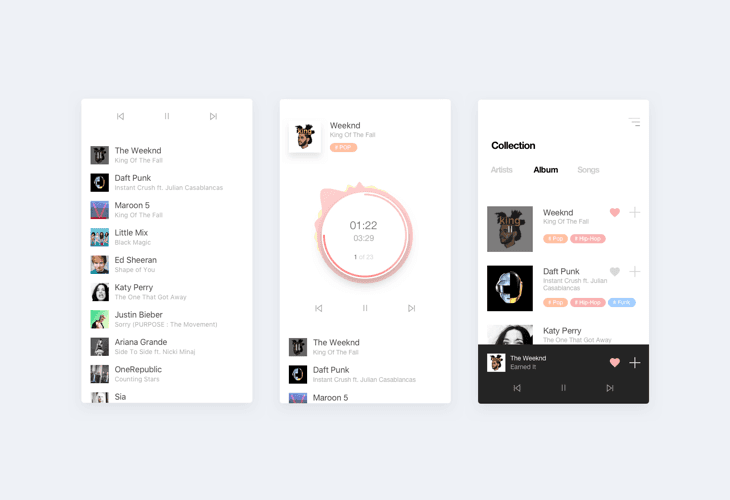 Beauty is in simplicity, right?
Cinema App
On March 2017 our design team went to the "Logan" premiere. We've been waiting for this movie for a long time so decided to get prepared in advance by booking and buying tickets online.
At first, we noticed that apart from poor design many cinema apps are overloaded with unnecessary features, like galleries of large screenshots, long lines of comments, or sections with "Coming Soon". That seemed strange because such kind of app should be simple in usage and serve as a quick method of buying tickets to the cinema. At a time when we are overwhelmed with information — simplicity and convenience are the keys to quickly grab user's attention.
Our design team thought why not creating a visually appealing cinema app concept where a user is able to quickly book tickets to the nearest cinema with easy navigation.
Following the principle "Do less, but better", we started to design our own concept of cinema app. At Agilie we a have a big design department and we always cooperate with team members to achieve better results. We had several ideas on how it should look like and what colors would be the best fit. Alex Volk was inspired by the latest trends in mobile design, in particular, more calm and minimalistic color patterns. He wanted to create a design with a more clear and user-friendly interface that will make the booking process simpler and more attractive for a user's eye. Adhering to the rules of a good UX, we strove to design an efficient and intuitive concept with a consistent interface. We were focused on improving the interaction between the user and the app with the help of:
Displaying only the main information (current movies)
Placing a bottom navigation
Introducing a minimalistic and laconic design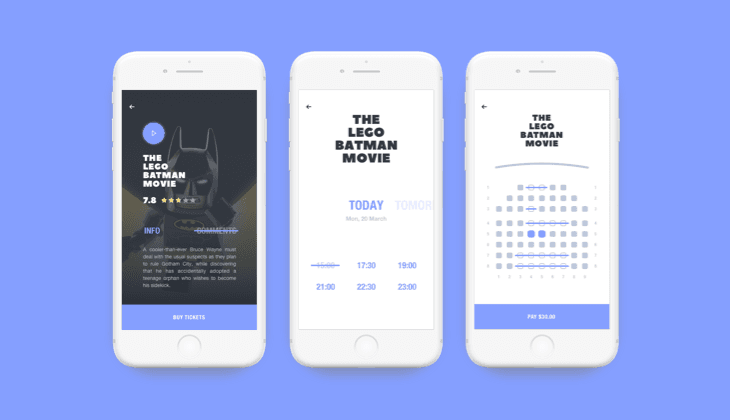 Cinema app consists of two screens: the one with a horizontal scroll of the current movies and another depicting the process of buying tickets. We didn't hide all control elements to the menu but set them to the bottom navigation in order to make easier to reach it with one finger.
By the way, the originality of city icons is due to Alex architecture background:)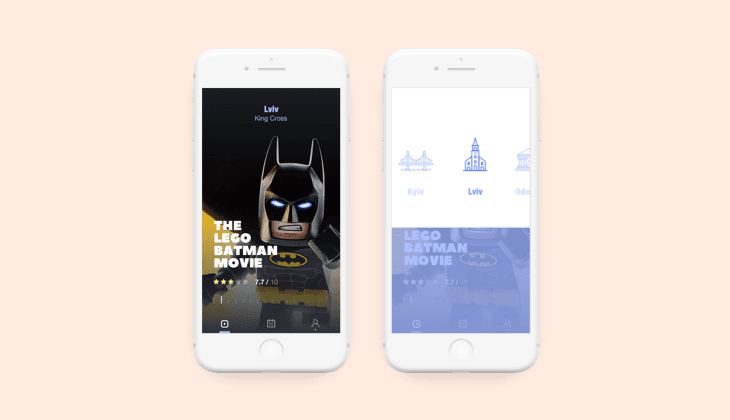 We used Sketch to work through the both concepts, which made the design work smoother, quicker, and easier than using other programs. It took 10 days to design the Cinema App and 12 days to create the Music Player concept.
We would like to thank the Behance community for featuring Agilie projects in the UI/UX category. We will continue working on new designs and creating new and awesome projects.
---
Rate this article
0 ratings, average 0.0 of out 5
---
Get in touch
Send us your comments, suggestions, questions, or feedback.