Microsoft Teams as a Collaboration Platform
Published on:
April 10, 2022
Last updated:
March 20, 2023
In today's world, an increasing number of people can afford flexible working hours. Moreover, our stark reality sometimes leaves us no choice but to be flexible! That's why special software designed to help us organize our work anytime, anywhere is actively gaining popularity.
The demand for such software has grown significantly over the past few months. The thing is, coronavirus followed by quarantine forces us to keep social distancing; among others, we have to work remotely. And smart business owners take care of their employees and provide them with all the necessary online and mobile team collaboration tools. 
Of course, the well-known Microsoft company could not stand away and offered its solution to the problem too. You may have heard of it, as it's really on everyone's lips. Surely, we're talking about Microsoft Teams.
In our article, we're going to explore the famous digital solution and focus on its main benefits. Also, you'll find out the best way to make a collaboration platform like Microsoft Teams.
Interested? Then keep reading!
What is Microsoft Teams

?

Let's say you, as a company executive, need a business collaboration platform with classic features including online document management, file sharing, instant messaging, video conferencing, and so on. The smart choice, as we've mentioned above, would be Microsoft Teams. It is modern, easy to use, and quite affordable. 

But we had better discuss it in order. First things first.

Microsoft Teams runs in the Office 365 cloud and meets the latest digital requirements. It has everything you need to organize a successful corporate activity. Team member communication, presentations to customers, interaction with partners and suppliers, and more are possible with Microsoft Teams. Company employees can work outside the office, remotely, and remain efficient, which is especially important during the pandemic period.

If you want to be a competitor to Microsoft Teams, you'll have to put in a lot of effort and carefully study the strategy of your main rival. Fortunately, we've conducted a detailed analysis on the issue and are happy to share its results with you. And first, we'd like to clarify the issue, which obviously interests potential users of this popular collaboration software: how much should one pay to take full advantage of Microsoft Teams? 
To pay or not to pay?
To pay or not to pay to use Microsoft Teams, that's the question! And in order to answer it, we have to delve a little into the history of this great tool for team collaboration.
The platform was developed by Microsoft in late autumn 2016. It was conceived as a competitor to a similar Slack solution. It wasn't easy to succeed, however, as Slack was absolutely free and Teams was offered as part of the paid Office 365 package. Of course, users preferred Slack. They didn't want to pay, which is only natural.
It took Microsoft representatives two years to finally realize they had chosen the wrong strategy. To remedy the situation, the company supplemented Microsoft Teams with free basic functionality, which made a decisive difference. After all, both brands offer good collaboration tools for business tasks, but Microsoft Teams beats Slack in many ways. And now that it has become financially affordable, users have more reasons to choose a solution from Microsoft. 
Check out the list of free Microsoft Teams features:
no more than 500,000 users;

full access to standard features, including co-editing documents, the ability to share your screen, file exchange, chat communication with any number of messages permitted, convenient search, and so on;

blurring the background to create a more comfortable working environment;

guest access, which allows you to interact with those users who are not part of your team;

a large number of useful integrations with different services:

programs included in Microsoft package (Word, PowerPoint, Excel, etc.);

third-party solutions, such as Adobe and Trello;

shared storage plus additional space for each team member (10 GB and 2 GB respectively).
Slack's free plan isn't nearly as appealing, which means Microsoft's offering becomes much more interesting. The only thing that sometimes hinders the popularity of the collaboration platform is the conservatism of users who don't like changes.
By the way, if you're curious about the premium Microsoft Teams plan, take a look at the infographic below.
But the free version of the Microsoft Teams collaboration software would be enough to keep owners of medium and small companies happy.
Using Microsoft Teams

team collaboration tools

Microsoft Teams is really easy to use, and one doesn't have to make an extra effort to sort out how these online collaboration tools work. But there are several points to consider anyway, namely:
Organic use. Interaction with software occurs and scales naturally (organically) in the case of organic use. All team members are allowed to do whatever they want and take advantage of the free Microsoft Teams features as they see fit.

Manageable use. It's a more complicated case, implying that the company's management plans to strictly control its employees and determine who can do what. Different levels of access lead to the gradual implementation of the Microsoft Teams solution.
Key benefits of the Microsoft Teams

collaboration platform 

Why is Microsoft Teams such a great collaboration solution for businesses? Why should your company choose it among all other similar options?

The plain fact is: using Microsoft Teams allows you to quickly and easily solve a number of problems that almost any company inevitably faces.

Let's look at the issue point by point.
Intuitive & user-friendly approach. Microsoft Teams was designed as a platform to help the company operate at its best. Microsoft wants your employees not to be distracted by simple everyday tasks, which online collaboration tools can easily handle without human interaction. It means Microsoft Teams should be intuitive and easy to use. And so it is: the provided solution doesn't require unnecessary actions from the team members. Just a couple of clicks, and the job is done, whether it is organizing a video conference or exchanging documents.

Effective real-time teamwork. Let's agree, well-coordinated teamwork results in an increase in the company's efficiency. And Microsoft Teams is a great solution in this respect. It has a ton of useful features for business communications and other cool advantages, which you'll learn about after reading our article.

Centralized collaboration on documents. According to statistics, at least 35% of intellectuals still resort to outdated methods of co-editing documents, such as using e-mail forwarding. The approach is extremely energy-intensive, time-consuming, and (let's face it!) ineffective. Microsoft Teams solves the problem by offering a wonderful platform, which allows multiple people to work on any file at the same time. All the changes made are being saved. 

Availability. Microsoft Teams is a very popular collaboration software available in more than fifty languages ​​and represented in the markets of many countries (over 180).

Employee mobility. Microsoft Teams goes beyond the online version and also offers mobile apps (Mac, iOS, and Android). Each employee is welcome to choose the solution that most suits him at a particular point in time.

Continuous improvement. Microsoft keeps working hard to improve its product and make it the best collaboration software. Testing is ongoing, new features are being added, additional integrations with useful third-party services are being provided. For example, Microsoft has recently built the Dataflex platform into its solution, a kind of constructor aimed at creating, deploying, and managing applications and chatbots inside the system itself.

Highest security. Security is key, no matter what it is we're talking about. And when it comes to corporate data, then taking care of the information protection is all the more necessary. And Microsoft has done the job quite well: the data is being securely encrypted both in transit and in storage. 

Customizability. Each team has its own tasks, therefore, the chosen chat-based collaboration platform should be unique. Microsoft Teams can be customized to meet your specific needs, which is also a huge benefit.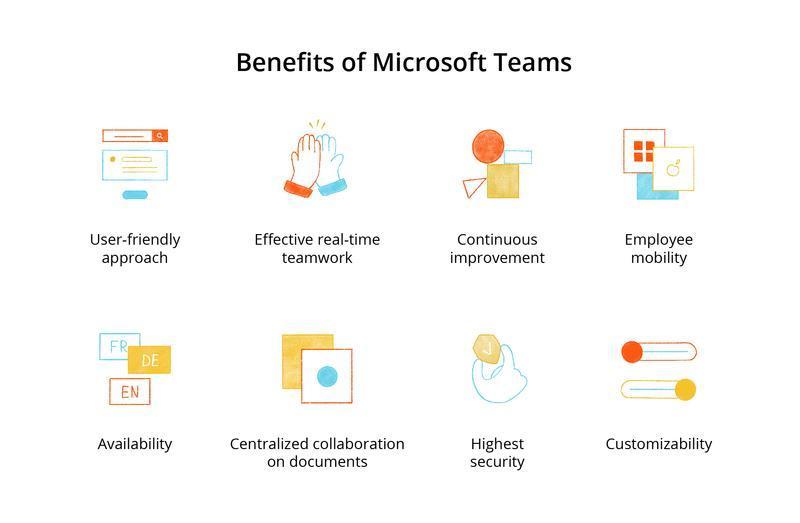 How to Make a Collaboration Platform Like Microsoft Teams
Microsoft Teams is one of the best collaboration software, but why not compete with it? If you're ready to take the risk, join our discussion on such an intriguing subject.
Discovery Phase
Of course, сollaboration platform development should start with qualitative analysis. Your research must consist of the following key steps:
Analysis of the target audience and drawing up a portrait of the average customer. So, first of all, answer a few questions:

Who is your user? What is he like? Describe him or her in as much detail as possible;

Who is going to pay for your product and who will just use it? Since applications like Microsoft Teams are primarily targeted at the company, the payment is usually made by its executive, and the employees become the main users. All this should be considered if you want to achieve a flawless result.

Formulation of the problem. Each product, including a digital one, must solve a specific problem of the consumer (user) or fulfill his desire. Say, social networks help to establish communication of a certain type; as to team collaboration tools, companies use them to be effective even in a remote work environment.

Competitive analysis. Alas, you're unlikely to be the first to solve the previously indicated user problem. Surely the market is full of similar solutions. Therefore, identify all existing competitors and analyze the strategy of each. Answer a series of questions such as:

What are the advantages of the most popular collaboration software? Can you adopt or replicate any of them?

What are the disadvantages of your competitors? What should you do to avoid these mistakes?

Coming up with a unique offer. Now you have everything you need to build a successful communication and collaboration platform with its own unique benefits.
The initial data has been collected, the analysis has been performed, and it's time to transform the information received into a kind of business model. And the Lean Canvas template will help you with this.
Lean Canvas
As you've already understood, Lean Canvas is a template focused on creating an effective business model. It is based on lean production ideology, which implies you can get good results (in our case, make a collaboration platform like Microsoft Teams) even while saving resources. There is no point in unnecessary expenses, simply put.
The Lean Canvas model helps the future owner of an application or site (or any other product) to describe his idea as much as possible and thereby increase his chances of success.
What does LEAN CANVAS give you?
Lean Canvas helps you ... 
systematize information about the product being created;

explain your ideas to others;

present your product properly.
Overall, Lean Canvas is a good tool to help you build the best collaboration software.
How to use the LEAN CANVAS model?
So how can Lean Canvas be put into practice? It's actually simple: all you have to do is fill out the table with the information you've collected (do it online, it would be simpler).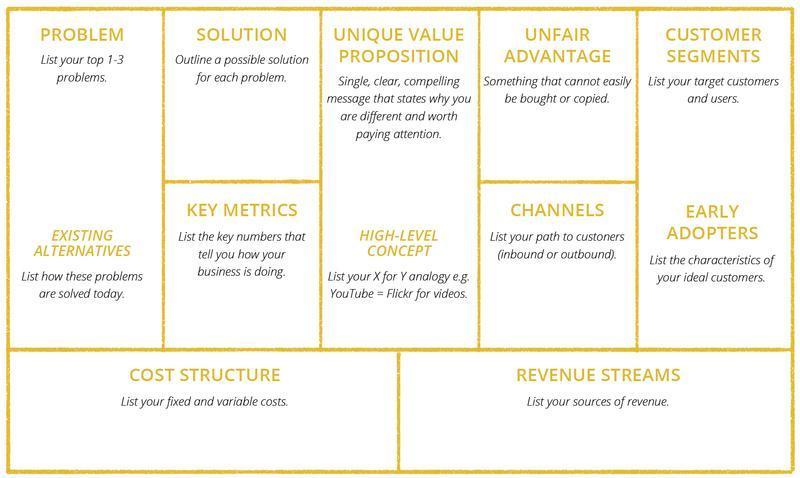 As you probably see after analyzing the table, you already have some of the data to fill it (you've received it at the first stage of collaboration platform development). As concerning the rest of the information (say, about revenue streams), we'll discuss its sources later.
Calculating the development budget
Let's say your initial vague idea has taken shape and formed into a real project. Now it's high time to figure out how much money you need to implement it. Simply stated, you should calculate the cost to make a collaboration platform.
Include in these costs everything you plan to invest in, from market analysis and hiring developers to product launch and support.
Determination of platform functionality
At this point, you, in theory, already understand (at least, roughly) what features your collaboration software is likely to have. Actually, they should be related to the uniqueness of your product and the problems you're going to solve with it.
By the way, below we describe useful features for business communications, maybe, our tips will inspire you.
Initial sketch of your

collaboration platform

Well, now you have the basis to create an initial prototype of your application. So far, these are only rough sketches of what your idea will become in the end. 
Why do you need it? 
Prototyping involves creating a rough model of your digital product; its purpose is to define the structure of the application (in our case, online collaboration tools), its functionality, and the concept in general.
Prototyping is designed to visualize the essence of the project and eliminate misunderstandings between various specialists (the app owner, project manager, UI/UX expert, developers, etc). The prototyping approach helps to avoid many annoying mistakes in the early stages of collaboration platform development.
Testing the platform on your target audience
Do you know what the main trick of prototyping is? The answer is simple: you can test the product under development on the target audience: those people who will become your users.
How to approach user testing?
first of all, you need to get together a focus group;

the second stage of testing includes working with representatives of the group you've gathered. Potential users should give their unbiased opinion on your product;

the third stage is the analysis of the data obtained.
UX strategy creation
Now you know what your potential users like and dislike about your product. It's time to revise your original plans and create a UX strategy. 
UX stands for User Experience; that is, you need to figure out how to make a collaboration platform able to provide the user with the most positive experience. It's about the usability of the application, its intuitiveness, and other important factors.
Collaboration software

monetization

Of course, if you need collaboration tools for the business purposes of your own company, the issue of monetization wouldn't worry you. In all other cases, you must consider making a profit.. or else what's the point?
The main ways to monetize your site or app:
Monthly subscription;

Freemium model, when there is basic free functionality and paid premium features;

In-app advertising (be sure to avoid unnecessary intrusiveness so as not to distract users from their work).
MVP & MLP
You've already realized that the cost to make a collaboration platform is quite high. What if you are on a very tight budget? We recommend that you start by creating MVP and MLP models.
MVP is the initial version of your product with the minimum number of features (the most key ones);

MLP is similar to MVP but has a more thoughtful UI/UX. It is the next and improved step after MVP. While MVP only helps to solve the customer's problems, MLP also brings him pleasure and comfort of use.
To analyze the success of your collaboration tools, you need to track certain performance metrics (see the figure below).
Product Promotion and Support
And of course, you can't succeed without constant support and promotion of your digital product. You need to think in advance about how to sell and advertise your application.
Online or mobile?
By the by, we didn't mention one extremely important point yet, namely: what type of service are you planning to create? Are you going to limit yourself to building a web version of the platform? Or do you want to develop a mobile app (iOS and Android) either?
Naturally, in order to make a collaboration platform like Microsoft Teams, you have to offer the user all possible options since your main rival does just that. Keep up with the leader!
If you cannot afford such financial investments right away, proceed in stages (that's where MVP and MLP models come in handy).
Must-have features for your

collaboration software
Chat. Microsoft Teams is a chat-based collaboration platform, so if you want to create something similar, able to compete with such a powerful market player, you cannot do without the chat feature. And don't forget to provide the possibility of both personal and group chat communication.

Search. Sooner or later, employees of any company might need to find something: a message in the chat history, a certain document, or file, or you never know what! And a search engine equipped with sorting and filtering systems will help you meet these user needs.

Sharing functions including:

Sharing of documents. How about the possibility to send a certain document during chat communication with just one click? Not bad, isn't it? And indeed, such a need arises quite often in the work process! So the opportunity to share this or that file using the collaboration platform will delight your users. 

Shared storage. Of course, you should also provide the user with shared storage space. Any company employee, provided he has the access, can find the desired file there and work on it.

Shared screen. Finally, a team member must be able to share his screen, make it available for viewing by other users. The feature will be useful in many cases including various kinds of online meetings when one needs to support his verbal presentation with visual accompaniment.

Audio and video conferences and meetings. The feature allows team members to hold a general meeting even in conditions of remote work (which would come in handy during the coronavirus pandemic).

Phone communications. If you intend to build a successful communication and collaboration platform, you'll have to add the possibility to organize phone conversations to your service. Such features as call forwarding and routing, auto-attendant, voice messages, and so on, would be really helpful.

Assigning a task performer. All famed, well-featured team collaboration tools offer their special ways to mention a particular user (say, if there is a need to assign a performer to the task). When it comes to Google Docs, it's using the @ sign (we're pretty sure you've used it yourself on repeated occasions). Come up with your own option to approach a certain user.

Notifications. Notifications are a simple feature, but extremely important. It'll help company employees stay informed under any circumstances. He or she won't miss any messages, which is important for maintaining the desired team productivity.

Third-party integrations. As you already know, Microsoft Teams provides its customers with the opportunity to integrate many useful services. Naturally, you shouldn't stay abreast of your competitor. On the contrary, follow its lead and offer users integrations with various third-party solutions (such as Trello, Evernote, etc.)

Admin access. And, at last, your collaboration software must provide higher-permission administrator access. A team member with such an access type would be able to manage the platform: add and remove team members, moderate posts, and more.
Are you intimidated by the difficulties of creating collaboration platforms? There is no reason to worry, believe us! You just need to hire professionals who would shoulder all development troubles.
---
Rate this article
0 ratings, average 0.0 of out 5
---
Get in touch
Send us your comments, suggestions, questions, or feedback.