Live Video Streaming Services Comparison
Published on:
April 10, 2022
Last updated:
March 20, 2023
Real-time video streaming is a hot trend right now, and despite everyone seems to have their own streaming service of choice already, more and more live streaming services and apps keep popping up hoping to seize new and please old audiences. 
Facebook launches a live streaming feature and takes on the Twitter-acquired Periscope, while the latter beats its personal opponent, Meerkat. Meanwhile, YouTube announces a live streaming feature in their mobile app, and Tumblr is going to join the battle too.
If you are considering developing your own mobile live video streaming app, you should understand the realia of today's market and figure your own way to stand out and find your audience. In this article, we are going to have a glimpse on different solutions that exist on the market now and explore what they are offering to users.
What are live video streaming services and how people use them
Live video streaming apps allow people to broadcast and watch online literally anything from mass events to shopping sessions to even eating. The broadcasters' accounts are usually called 'channels' to which other users can subscribe to be up-to-date about the upcoming streams.
Apps like Periscope are also invaluable tools for marketing: they provide vast possibilities to promote a product or service, carry out a supplementary customer research, and even monetize live broadcasts by streaming the engaging content.
How does the live video streaming services market look today 
Today's live video streaming services market can be broken down into three generalized branches:
Services that are integrated with the existing social media platforms or act as a feature on such platforms (like Periscope, Meerkat, Facebook Live).
Broadcasting platforms that provide a variety of services, including free mobile apps (like Livestream and Ustream).
Standalone apps that either can or cannot be integrated with other platforms.
Let's now have a little closer look at some of these services and see how they attract users.
Periscope vs Meerkat
Launched in February 2015, Meerkat had a huge success thanks to its deep integration with Twitter. However, at the same time, Twitter silently acquired Meerkat's competitor, Periscope, and with its launch in March 2015 restricted Meerkat's access to the network's social graphs, which cut off most of the app's unique integration-relied features. 
Eventually, allowing users to save and re-share their streams, providing deeper integration with Twitter, and also not requiring a Twitter account for broadcasting, Periscope has taken the upper hand over Meerkat.
Update. At the end of September 2016, it was revealed that Meerkat has secretly built a private live streaming app Houseparty. Meerkat was officially announced to be dead on September 30, 2016.
Periscope app
Livestream
Livestream is one of the long-living (founded in 2007) live broadcasting services available for iOS, Android, Web, and Roku devices. For event broadcasters, they offer a number of pricing plans that feature special broadcasting equipment, in-depth analytics features, embedded channels, high broadcast fidelity, and integration with Facebook, Twitter, and other platforms. Livestream's free mobile app provides users with a quick access to high-quality broadcasts, as well as the ability to make own streams.
Ustream
Ustream is another market veteran, operating since 2007. It was acquired by IBM in early 2016. Like Livestream, Ustream offers different pricing plans (including the free plan with ads and lower fidelity), integration with other platforms, broadcasting equipment, and mobile apps for iOS and Android that allow to broadcast and watch live streams. Being Livestream's major competitor, Ustream has a somewhat lower market share.
Streamup
Streamup is designed for musicians and other live show performers who want to organize live streams of their performances. The most appealing feature for potential streamers - aside from the opportunity for the young performers to promote themselves - is the ability to monetize their live broadcasts.
Alively
Alively is a live streaming app co-founded by Vadim Lavrusik, Facebook Live's ex-manager, and recently launched for iOS devices. The idea behind this app is dubbed as "one-to-few" or "narrowcast", which means that users can to share more intimate moments with the selected people like close friends and family.
Sure, services like Periscope or Facebook Live has too a limited sharing feature as an option, yet Alively is fully devoted to this idea and offers users to broadcast in a higher quality (but with an around 30-second delay) and to store saved broadcasts in the cloud.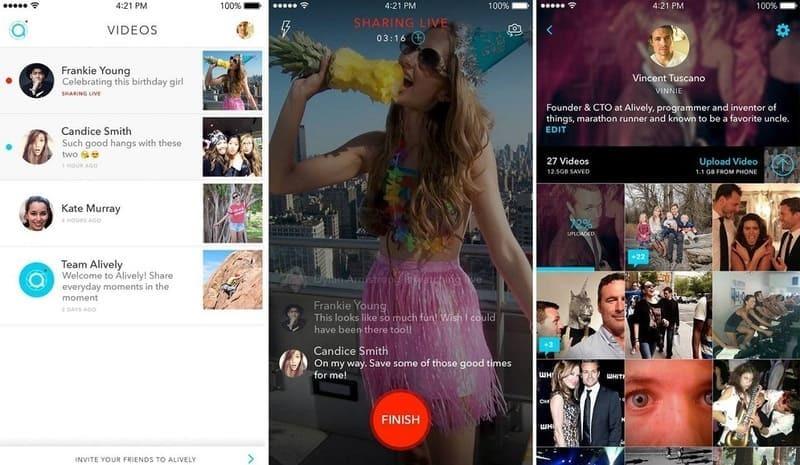 Alively app
Hang w/
The popularity of Hang w/ relies heavily on celebrity endorsements. Among the services' notable features are Facebook integration, Android and iOS apps, monetization, Apple TV support, and a fun gimmick that allows adding Instagram-style filters to a stream. Hang w/ also allows to embed a broadcast to any web page using a web widget.
b.live
b.live is a standalone live streaming app developed by Agilie for Android and iOS platforms. The focus of the app is on the users' (or b.livers', according to the app's terminology) socialization: streamers can cooperate uniting under a shared channel and send push notifications about the upcoming streams to their followers, while the followers have more commenting possibilities - they can express their reactions doodles, graffiti, and emoji in line with usual text messages.
b.live is fully integrated with YouTube. This means users can broadcast simultaneously to both their b.live and YouTube subscribers. In future, they will be able to broadcast to their Facebook feed as well. 
You can read more about b.Live and its features in our case study here.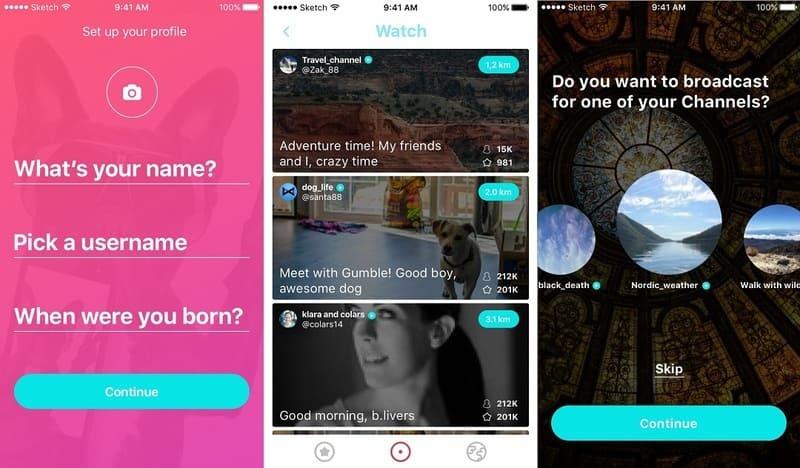 b.live app by Agilie
Conclusion 
Though at the first glance it may look that the market is being seized by social media titans backed by their huge user bases, there are still a lot of other apps and platforms that exist and keep coming. Some of them (like Streamup, for example) rely on specific users, some provide a serious technical base (like Livestream and Ustream), others are in search of their own, unique niche. 
Considering the current dynamics,it is yet to be seen how the things will come up. But it's certain that live media won't get out of trend anytime soon. 
If you are interested in the possibilities of live video streaming solutions and, perhaps, deciding on developing such an app yourself, you can contact us - we'll be happy to share our experience!
Also, check out our b.live case study, and read about our iOS and Android app development services.
---
Rate this article
0 ratings, average 0.0 of out 5
---
Get in touch
Send us your comments, suggestions, questions, or feedback.