How to Make a Great App
Published on:
April 10, 2022
Last updated:
March 20, 2023
Our article would be useful to anyone interested in creating a mobile app that would be in demand and also bring huge profits. After all, as you should know, great ideas for mobile apps lead to your financial prosperity only in the case if you're following some important tips we're talking about below. 
So, read our blog post to learn what makes a mobile app successful, and what steps to take to achieve your goal with minimal effort. In other words, we're going to describe the best way to join the ranks of the best new apps.
Great app ideas
Everything starts with the initial Idea. Therefore, if you want to build a business on apps, think of your target audience and its actual needs. A proper example: if you live in a big city with lots of tourists, you might consider creating a travel application. 
Another good way is to scroll your own hobbies and interests. Maybe, you're used to journeys and have visited the most famous clubs around the world. You might have even made a list of your favorite places... so why not turn your database into a working and helpful app?
On the other hand, many popular apps not focused on special interests are still at the top. We're talking about games, of course. Gaming applications tend to make money because people are more willing to pay for such entertainment. So business plan related to mobile games has a lot of chances to bring you a constant profit.
And by the by, don't despair if you've found something similar to your great app idea when searching through the App Store or Google Play. Learn to think outside the box: give your app a certain zest, make it special, and let it be distinct from the analogs, at least a little bit.
Here are some important points to consider while pondering your application:
Are you going to develop the application yourself or hire a team of developers?

What makes your app useful to a customer?

Will the application need daily control?

Do you want your application to become your main business or just a single project?

Which platforms do you want your application to work on?
Types of applications
If you're still in search of the good mobile app ideas, we offer you to look at the list of the most popular app types:
Games (such as Angry Birds)

Travel (TripAdvisor, Kayak)

Social networks (Facebook, Twitter)

News

Music

Video

Utilities (such as Google Translator)

Photos (Instagram, Picstitch)
Did you find anything interesting? Then don't lose your chance to develop a great mobile app!
Apps design
Well, now you have a great app idea. Then what? How to create a new mobile app, where to begin? 
The first thing to take care of is the competent visualization of your program. Most people are visual creatures absorbing information through their eyes, so effective design is an important condition for the app's future success. 
We offer you to think through the following points:
#1. Rules that always work
We'd like to highlight 3 factors important in the process of the application design creation:
Customer orientation. One should remember that we're creating the design for a specific user. Study the information about the different categories of users in order to create the app design ready to meet all the needs and expectations of the target audience.

Usability. Your app must be easy-to-use and intuitive. And if you want to place a link to a third-party resource, design it in a familiar to everyone way. Convenience plus practicality is the first step on the way to making a successful mobile app. 

Learning ability. Ideally, every user should easily figure out the proper way to work with the program. And familiar UI/UX design schemes would come in handy in this case. It's natural, after all, these schemes are aimed to help a person get used to the program without any problem.
That is, the design of your application should be clear and familiar to the target audience. These are the main conditions for the future success of your program among the users. 
#2. Important details
If you want to know how to build a successful mobile app, be ready to create a customer-centric program interface. Among others, it means to consider very small but still so important details. We're talking about such things as a display size or other users' requirements concerning the matter; all these nuances (minor, it would seem at first glance!) need to be taken into account.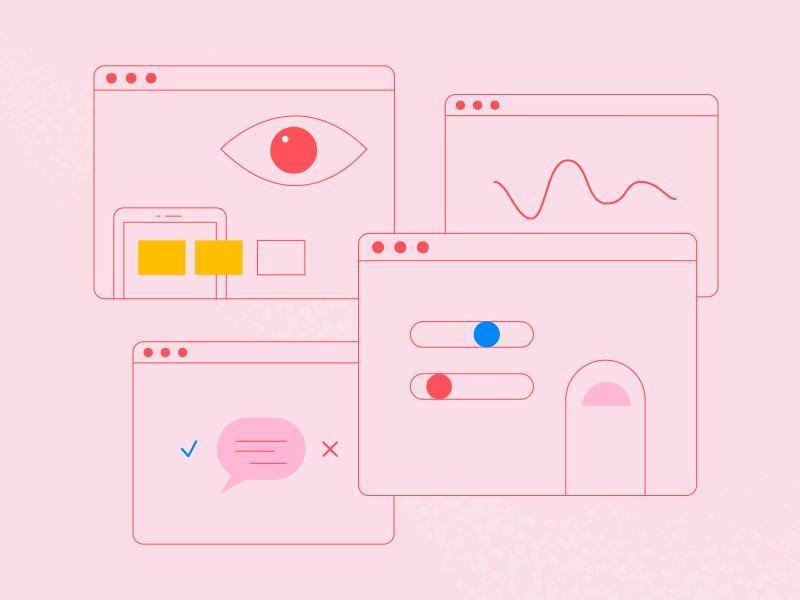 There is a clear tactic that consists of three provisions: 
Personas: this helps you to understand what would encourage a user to perform a certain action within the application. We're talking about a theoretical model of real users. 

User Scenarios provide modeling of various situations helping predict user actions. Due to such a prediction, you can design an interface able to fit the simulated users and the tasks they want to accomplish. 

Experience maps: here one studies all the possible conditions of a separate interaction. The scheme is aimed to describe each user step that will be performed with high probability at a certain stage of the work with an application. The scheme is key to understanding the emotions and circumstances leading to the execution of every single action. 
The simplest way to complete these items could be remote usability testing through services like UserTesting. Such programs help to study user behavior in vivo. To better examine the issue (e.g., taking into account gestures and even body position), it's necessary to work with real users (five people at least). 
All these moments might seem difficult but the game is worth the candle if you're really interested in creating cool and modern app design.
#3. Improving usability by means of schemas familiar to a user 
The mobile app design should be intuitive and user-friendly. Let's say, almost every map service takes advantage of the "slide-out" navigation making all the process of interacting with the program so much simpler: the application is new and therefore unfamiliar, but the scheme of work is well-known and understood. 
#4. Consider the size of a user's finger
Yes, users' fingers are much bigger than fans of sophisticated app design could imagine. And you definitely need to take it into account to develop a great mobile app, great and profitable.
If your buttons are too small or located too close to each other, some people won't be able to use them properly. As a result, your customer would be annoyed, and nobody wants to annoy a customer, right?
Here are two important moments that should be considered when designing buttons and other touch elements: 
We all hold a phone or a tablet differently. Even one and the same man holds a device in various ways depending on the situation. 

Our fingers are really big. Their width is about 45-57 pixels, which is more than the size recommended by most guidelines for test devices.
#5. Remove the chaos
The rule of three clicks is still relevant and should be used when creating the application design. Why? Just because it allows you to understand what is really necessary for an app screen. 
A user has to perform a minimum number of actions to achieve his aim - it's your task! So the fewer efforts a user needs to make when interacting with a program, the more popular your application is going to be.
How to make a successful mobile app
Now you've got a great idea of a new mobile app and a ready design project, but this is definitely not enough to implement the whole plan, right? So what are the next steps to creating a successful mobile application?
#1. Hiring a developer
First of all, remember that there is no need to develop the application by yourself, the task is too complicated and requires special skills. So the ideal option is to hire a developer.
There are a few questions you should ask your future developer(s):
What are their rates?

Do they have enough experience?

Can they show you their portfolio?

Who will have the rights to the app?

Do they have the skills to bring your great idea to life?

What platform (IOS, Android, Windows) can they create apps for?
By the by, though earlier we've gone thoroughly into a question of design, in fact, UI/UX is a logical part of developing a successful app. An experienced UI/UX expert knows the necessary tools to sketch your app idea in the best possible way.
#2. Management
Management is an important factor rarely being taken into account. 
Suppose, you, as we wrote earlier, decided to hire developers to create your application. So the problem is to make sure your great app idea will be implemented by developers exactly as you had planned. 
Ironically, the task is more difficult than it may seem, and its simplification is the goal of managers.
These experts are trained to understand the needs of customers and correctly pass these desires to developers. As a result, you get what you want and the way you saw it in your dreams.
#3. Testing the application
At various stages of mobile development, internal testing both on a simulator and on real devices is mandatory for the future success of your mobile app. The purpose of such testing is to verify that the application's interaction with the hardware and software platforms is going exactly as anticipated when prototyping. Otherwise, even the most promising idea would lead to failure.
Ways of the app monetization
One of the mobile app success metrics is, of course, the profitability of your program. Moreover, this is exactly what you're particularly interested in, aren't you? And that's why you should determine the ways of the future monetization in advance - at the very moment when you came up with the great idea of a cool and, preferably, helpful app. 
Let's take a closer look at the monetization options (which are certainly important for app success):
Free apps. Usually, free apps are used by large companies to promote their products or brand in general. That is, here we're not talking about monetization, it's all about promotion, which also contributes to increasing the company's profitability.

Free apps with ads. You can put thematic advertising into your app and get a profit from it. The method can come in handy if your app is popular and actively interacting with a user.

Paid apps. The most obvious and lucrative form of monetization. The question is how to force a user to pay to buy your program before he had a chance to appreciate its benefits.

Lite and Pro versions. Lite apps are free but they have limited functionality. By buying the Pro version, a user unlocks all the features. The only thing you have to do is to persuade a customer that the full version is going to make his life better in any way.

In-app purchases. You may sell new features or game levels (or whatever!) from the app directly.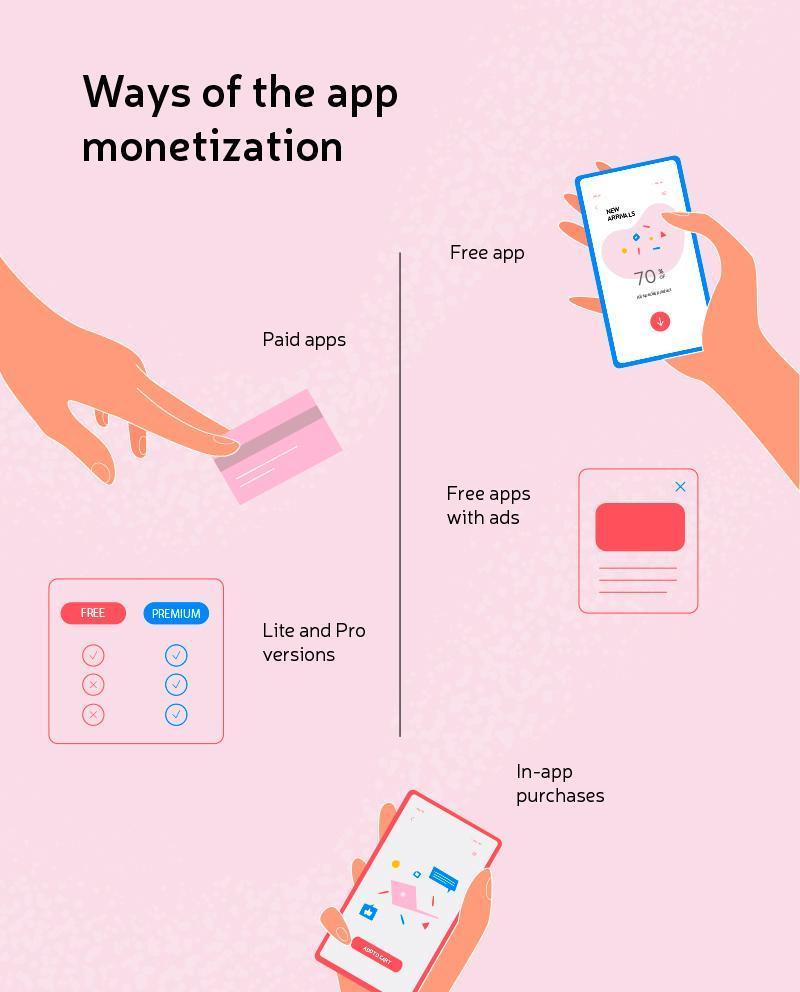 To get more information on your app monetization, feel free to read our article dedicated to this very issue.
Marketing strategy
What makes a good mobile app popular and sought-after is a proper promotion, which necessitates a marketing strategy.
App marketing is a complex multistage process requiring an integrated approach. But such a step is really crucial to everyone who wants to know how to make a great app.
We'd like to distinguish three main stages of  the efficient marketing strategy:
#1. Preliminary work: 
the target audience (TA) definition; 

setting narrow targeting; 

identifying the most effective ways to interact with your potential audience; 

development of the strategy and writing a press release about the launch of the project. 
#2. Setting up and running Analytics:
tracking the number of potential users, duration of sessions, frequency of app usage, and other key indicators; 

analysis of conversion paths and the definition of application deficiencies; 

work on improving the product. 
#3. User engagement and increasing downloads: 
attracting traffic from free and paid channels; 

the constant work on increasing positive reviews; 

the work with negativity inside mobile apps and also in Google Play or App Store; 

the work on the viral component of the application (to motivate users to exchange opinions about the app with their friends and family).
There are three types of mobile app promotion. And we hope you'll appreciate one of them with your good mobile app ideas. So:
Passive Promotion. The 1st type of promotion is useful for applications of the narrow focus, such as e-wallets. In such a case, the goal of marketing is to build a long-term trust relationship with the TA. The task is to support in-app activity and analyze the operation of the product. Effective promotion channels for the passive strategy are contextual advertising on the mobile Internet and social networks, mobile display networks. The duration of the campaign is about a month. The cost is relatively low, but CPI (Cost per install) is more expensive than other types have.

Moderate promotion. The strategy is aimed at owners of specialized applications: say, the search tickets service, mobile social networks, app games, etc. Such products are designed to take the leadership position in their group so the important thing is the TA analysis, the formation of its core, and attracting the organic traffic. The campaign duration is 2-3 weeks, with an average value of the CPI.

Aggressive promotion. The last strategy of leading the app to its top is most often used by large companies. Here we have all kinds of promotion channels aimed to reach the widest possible audience on the mobile Internet. A distinctive feature of aggressive promotion is a great number of organic traffic and low CPI. The duration of such a campaign, as a rule, doesn't exceed 2 weeks. 
Advertising
One should use direct advertising in addition to marketing tools to promote the app in the best way. It'll strengthen the effect and help calculate ROI (return on investment).

Tracking of results
Getting started to attract visitors to your app page, you need to keep track of their behavior: how many visitors have come to you, how many of them have clicked on the button "download".
You can use Google Analytics to track the number of clicks on the button "download".
Although the test won't provide 100% certainty, you'll quickly get a clue about the potential popularity of your great app idea. It's much better than the reviews of friends telling you "I would have bought it, I swear!".
The application support
The release of your mobile service in the AppStore or Google Play is only the beginning of a long journey on how to make a successful Android/iPhone app. In the future, your application is likely to need expert technical support including monitoring and troubleshooting, optimization, improving functionality, protection from attacks, etc. And you should think of it very thoroughly and in advance.
Summary
So, let's recap the necessary steps to make the program successful (which are needed even with great ideas for mobile apps): 
your app must be interesting to a wide audience;

explore the most popular application on the market;

think of the effective design for your application;

develop marketing and advertising strategies;

take your time! Pay attention to each stage of the process.
Don't make yourself too ample promises. It'd be more far-sighted to do your best to create something really useful, convenient, and interesting to a wide audience.
And if you need to hire a developer - welcome! Our team is experienced and skilled enough to build native iOS and Android apps from scratch: just the way you want!
---
Rate this article
0 ratings, average 0.0 of out 5
---
Get in touch
Send us your comments, suggestions, questions, or feedback.