How Companies Can Save with Live Streaming
Published on:
April 10, 2022
Last updated:
March 20, 2023
As you should know, live streaming means the delivery of multimedia streams of information (video, audio) to remote users in real-time. And people do enjoy creating their live video feeds... however not only ordinary users would benefit from this. Companies should also start taking advantage of such a powerful marketing tool.
But why do business companies need streaming, and what options do they have to save during the process? Let's take a look!
The reasons why using

live video streaming is so efficient

First of all, let's define why business companies should use real-time video streaming to promote their brand. Here are a few of the most important reasons:
Urgency factor. Thanks to the live video streaming, you can send (and even visualize) messages that have a "limited expiration date" as soon as possible. So, live streaming belongs to the easiest and fastest ways of transferring your urgent messages to the audience. You don't need to lose even a minute of your precious time. Share your experience with users here and now, without the slightest delay.

Visualization of communication. This is a great way to visualize your communication with the target audience, make it more alive and heartfelt.

Sharing your important events by using online video streaming. Watching the live video streaming of your event, representatives of the target audience will feel more involved in your company life. And, of course, feeling involved will have a positive impact on the users' engagement.

Another tool to promote the brand. Given the highly competitive market, it's very useful to have an additional and, moreover, a very effective marketing tool capable of giving excellent results when properly used.

Interview with the company and/or clients. Such interviews show not only the human aspect of your brand but also personal opinions. A brief overview of colleagues' and customers' opinions can also greatly increase the users' engagement. However, don't advertise your company too much and too openly during these sessions.

The perfect Behind-the-Scenes look. Most users will appreciate the opportunity to see your "behind the scenes" and witness all details that usually remain unavailable. Thus, you increase the degree of confidence by convincing your audience that you're acting correctly, without hiding anything from your consumer.

A fascinating way to interact with a consumer. Admit a fact: live-streaming sessions are not only an effective way to convey a message to your audience but also a very cheerful one! It resembles a game in which both your company representatives and users are taking part. And it welds you together positively affecting the growth in sales.
How to save on

live video streaming solutions?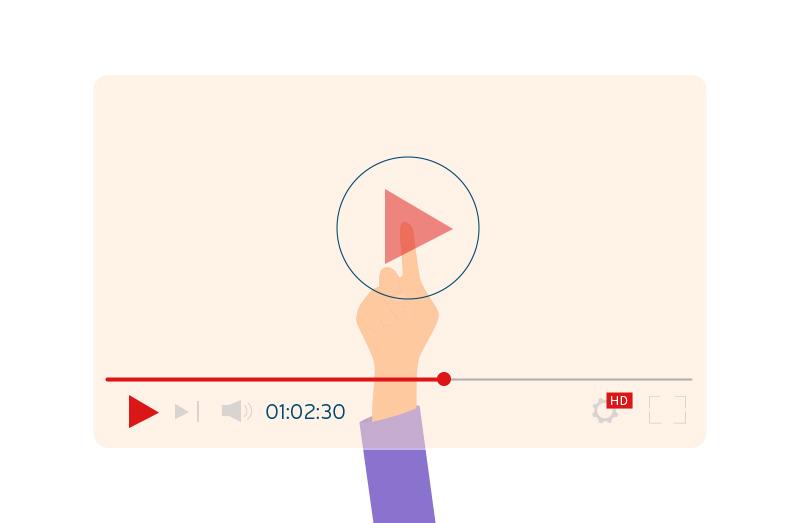 Any business solution should be cost-effective, and live video streaming services are no exception. How can a company achieve this aim and avoid unnecessary extra costs? Just follow our simple tips!
Combine the following activities to promote your brand:

Demonstrations. They're very helpful in order to show how your product should be used. Give viewers several tips on your products, unobtrusively promote and praise your brand. Try to convince the target audience of your brand necessity.

Interviews. As we've already said, you can interview your employees and colleagues. In addition, you should question the users themselves. For instance: "Do you find our product useful?", "Have you had any difficulties using/applying our product, service?". Take their advice and recommendations to improve your offer. Believe us, your target audience would become an excellent generator of ideas! But, of course, apart from questioning don't forget to announce the future events: exhibitions, web seminars, meetings, sales, promotions… 

Create an ad:

Advertise your intention to start sharing live video broadcasts. Let's say, you can report this message through social networks, blogs, etc.

Spread information about the topics of upcoming video meetings in social networks. Important! Try to create the most catchy title.

Don't forget to clarify when you're going live.

Think over the plan. What are you going to tell about during the online live video session? Outline the plan, making sure all items are presented in a logical order, so as not to confuse your listeners.

Take care of the quality. Have you seen video recordings that show the camera shaking? Agree, there is no desire to watch such a poor-quality video! So control the quality of your live broadcasts very carefully.

Offer an interesting video. Some live streaming companies are used to focusing on using fashionable methods and forget to follow the main principles. But the methods can change over time, while the principles remain the same. So, there are 3 important rules of a live streaming video:

Tell the story coinciding with the outlook of your audience. It's no secret that stories are a powerful tool to attract the public, you just need to make sure you're telling about the subject able to interest your customers.

Motivate users to participate. You'll attract more people and be more effective by encouraging the audience. For example, gifts and bonuses are a great way to make people participate more passionately.

Focus on solving the problems of your consumers, and they'll come back again and again. First, ask your viewers what topics they want to talk about. Based on this information, start developing ideas.

Attract maximum viewers. It's very simple:

share a broadcast on Facebook or any other social network;

announce the future video broadcast in advance: specify, when you're planning to conduct it and what you're going to tell about. Try to intrigue your audience;

enable the location option. So you'll get the most out of your audience.

Don't overdo the length of your live stream 360 videos. Remember, most people don't tend to concentrate for a long time. Especially when it comes to viewing something on mobile devices. Therefore, in order not to bore the audience, live streaming sessions should be short! Also, kindle interest among users by announcing the following online meetings. 

Consider the importance of the questions users ask. Let users know they're allowed to freely ask any questions. Offer the audience to leave comments during the video session. So you'll get a chance to find out all the problems, and still get inspiration to make new broadcasts.

Save your videos. Why is it necessary? Because there will be a lot of people who had missed your live streaming session. And if the announced topic of the broadcast had interested them, they'll need a record. Secondly, the recorded broadcasts can become great content for your channel on YouTube, blogs, or social networks.

But the most important thing is to choose the best live streaming platform to broadcast live video interviews and other activities of the sort. It should offer you a maximum of opportunities while demanding a minimum of your efforts. Read more about the matter below.
Our example
There are many applications allowing you to create online video broadcasts. We, too, are happy to share our own experience in the development of live video streaming solutions.
So, we bring to your attention b.live, a live streaming app for Android and iOS.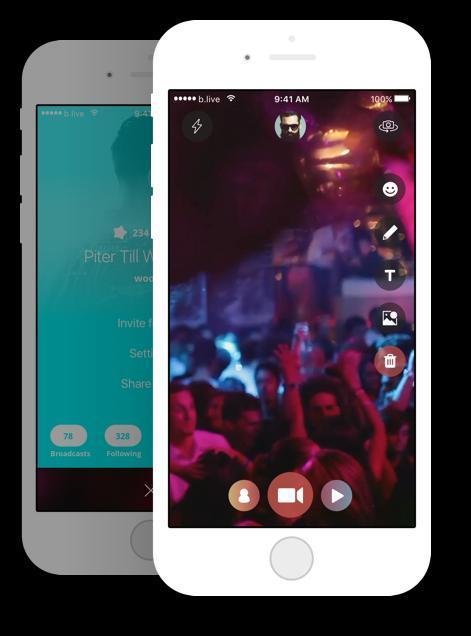 Just like Periscope, b.live allows users to stream their videos live in the easiest and most pleasant way. However, the app also has some significant distinctions that make us proud.
b.live provides users with the opportunity not only to create personal accounts but also to collaborate with other broadcasters creating the united channels. Streaming on such channels enables users to promote their video content among b.livers (b.live users), and monetize it.
Why is b.live profitable for business?
Because you can...
broadcast from any iOS- and Android-powered device;

integrate your account with YouTube and Facebook Live and broadcast via the three sources (including b.live itself) simultaneously;

view broadcasts via the web version of the app, so users would have a choice to watch streams from their desktop or laptop if they don't want to exhaust the battery of their mobile device;

use videos of the highest quality: our video compression technology makes it possible to handle video streams from all users.
App features:
Draw on-screen during the live broadcast;

Post emoticons during the broadcast;

Broadcast via multiple sources simultaneously (for instance, via YouTube and Facebook Live);

View broadcasts using a web interface, a mobile device is not needed.
Of course, these features require the use of a powerful live video streaming server. And we did our best to take into account all the pitfalls and choose the most effective strategy. If you're interested in details, follow the link, and you'll find more information about the b.live app.
Conclusion
Progress doesn't stand still, and you should follow the latest trends, especially when operating a business. So always look for new opportunities to promote your brand in the most efficient way. The more "traps" you put, the higher the probability of catching the right audience.
Creating a live streaming video is an excellent chance to bring your business to a new level. By doing this, you allow your audience to become a part of your world, and your customers start trusting you in return. But, of course, be sure to consider the cost-cutting factor. Thanks to our article, you already know how to achieve your aim with as much savings as possible.
Contact us if you have any questions left.
---
Rate this article
0 ratings, average 0.0 of out 5
---
Get in touch
Send us your comments, suggestions, questions, or feedback.