Features of Design Collaboration Software
Published on:
April 10, 2022
Last updated:
March 20, 2023
While working on our projects we came to a conclusion that sometimes sharing design concepts can be disappointing for designers. So, we have found a solution for this kind of problem. There is plenty of diverse collaboration tools to make it easier to interact and approve the works professionally and in time. We were looking for the one that allows several people to work on a project at the same time, leave comments, mark the area that needs to be improved, and that works well on different devices. We were choosing out of three best online tools to help us to cooperate fast and efficiently: Marqueed, Invision, and Notable.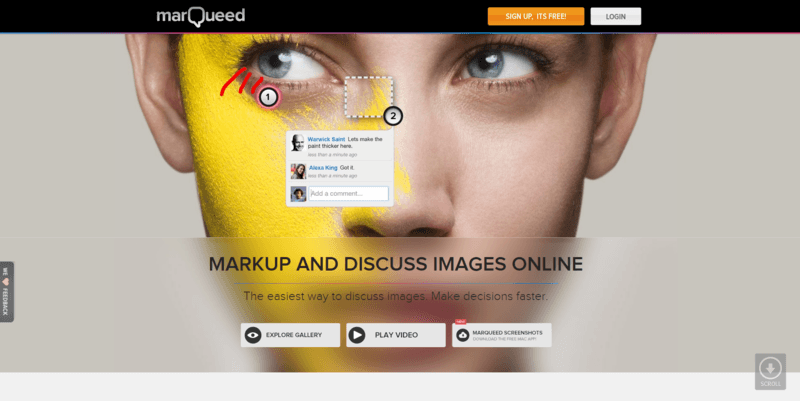 Marqueed doesn't have all required options. It is suitable only for work demonstration and commenting without the ability to create a group and work on a project simultaneously. Thus, we have decided not to consider it. 
Next service we were thinking about is Invision. It contains all kinds of functions, including prototyping, list of things to fix in the form of to-do list and user-friendly interface. It seems that it has everything but there are two shortcomings: there is no opportunity to highlight the needed area and the program doesn't work properly on Android devices. 
The third service we took into consideration was Notable. It includes all necessary functions but unlike Invision, does not have the ability to create prototypes and does not have a to-do list. But it works well on all devices and it's a big advantage. We have used it several times. We came to the conclusion that it is suitable for team work. It makes it possible to comment or highlight any needed area. 
To sum up, the best programs for design collaboration are Invision & Notable. 
Invision is especially good for prototyping and presenting layouts. But due to its disadvantages, Notable is more suitable for us.
If there are some other kinds of tools you may propose, please add your ideas below in comments and share your ideas with us.
Thanks for reading,
More details about us.
Please follow us on:
If you have any questions or would like to contact us about possible request on design or mobile friendly websites/mobile apps development please use Contact form.
---
Rate this article
0 ratings, average 0.0 of out 5
---
Get in touch
Send us your comments, suggestions, questions, or feedback.