Etsy Alternatives For Your Online Store
The handmade industry is booming: only the Etsy marketplace includes more than 2,1 million sellers, 90% of whom have their own business. Are you trying to find supplemental income on marketplaces? Or are you evaluating them to determine their particularities and then launch your own platform? We have created a list of Etsy alternatives to help you in these endeavors.
What Is Etsy?
Before starting, we would like to say a few words about the platform. Etsy is an online marketplace founded in 2005. It's a place where a lot of sellers meet their buyers. The sellers being crafters, artists, and collectors offer diverse things: vintage, handmade or custom-made jewelry, clothing, home decor, art, toys, and so on. The assortment includes about 50 million products.
Etsy has become popular because of a wide variety of its gift cards, shipping options, payment methods, and simple interface. In the article, we are going to compare alternatives to Etsy (Shopify, Amazon Handmade, Zibbet, and others) to find out if the platform really has real competitors.
5 Online Marketplace Etsy Alternatives
Shopify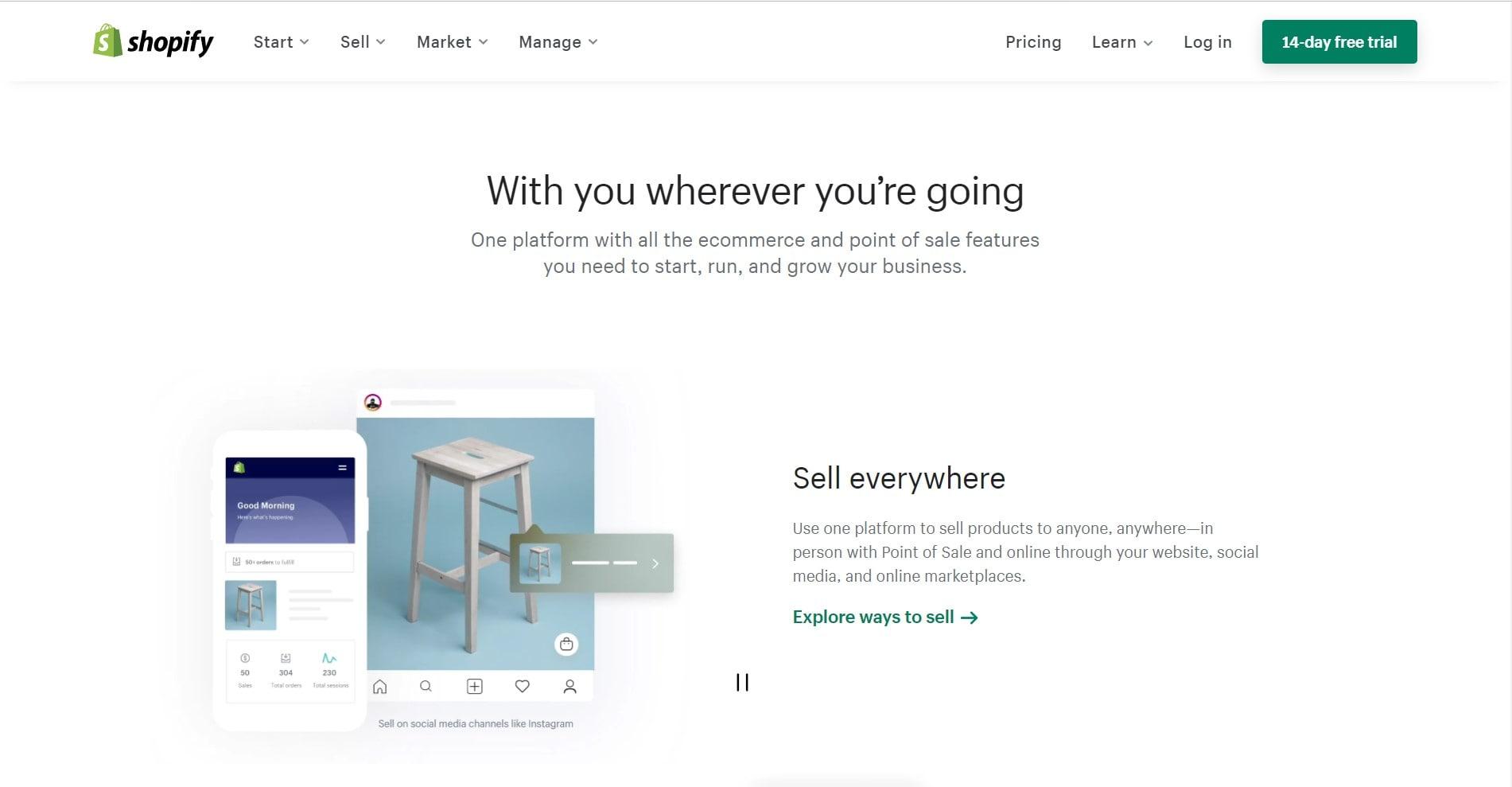 This is an e-commerce web resource, which was launched in 2006. It works using the Software as a Service (Saas) model. That means Shopify allows everybody to create an independent online store. Then you need to promote it with PPC and/or SEO tools.
Shopify generated more than $900 million in subscription solutions and around $2 billion in merchant ones in the fiscal year 2020. The number of visits exceeded 58 million.
Being a good Etsy marketplace alternative, Shopify is suitable for both small and big businesses. If you operate offline, take advantage of Shopify POS (a special application to sell products in your local store).
Pros:
Detailed admin panel (you'll have full control over your sales);

Free features (some of them refer to promotion tools);

Hosting from Shopify (it eliminates downtime at the wrong time);

Tons of additional apps;

Good support.
Cons:
The need to learn the system (maybe, to buy a special curse);

No guarantee for your success (the online marketing activities are mandatory);

High transaction and subscription fees.
Folksy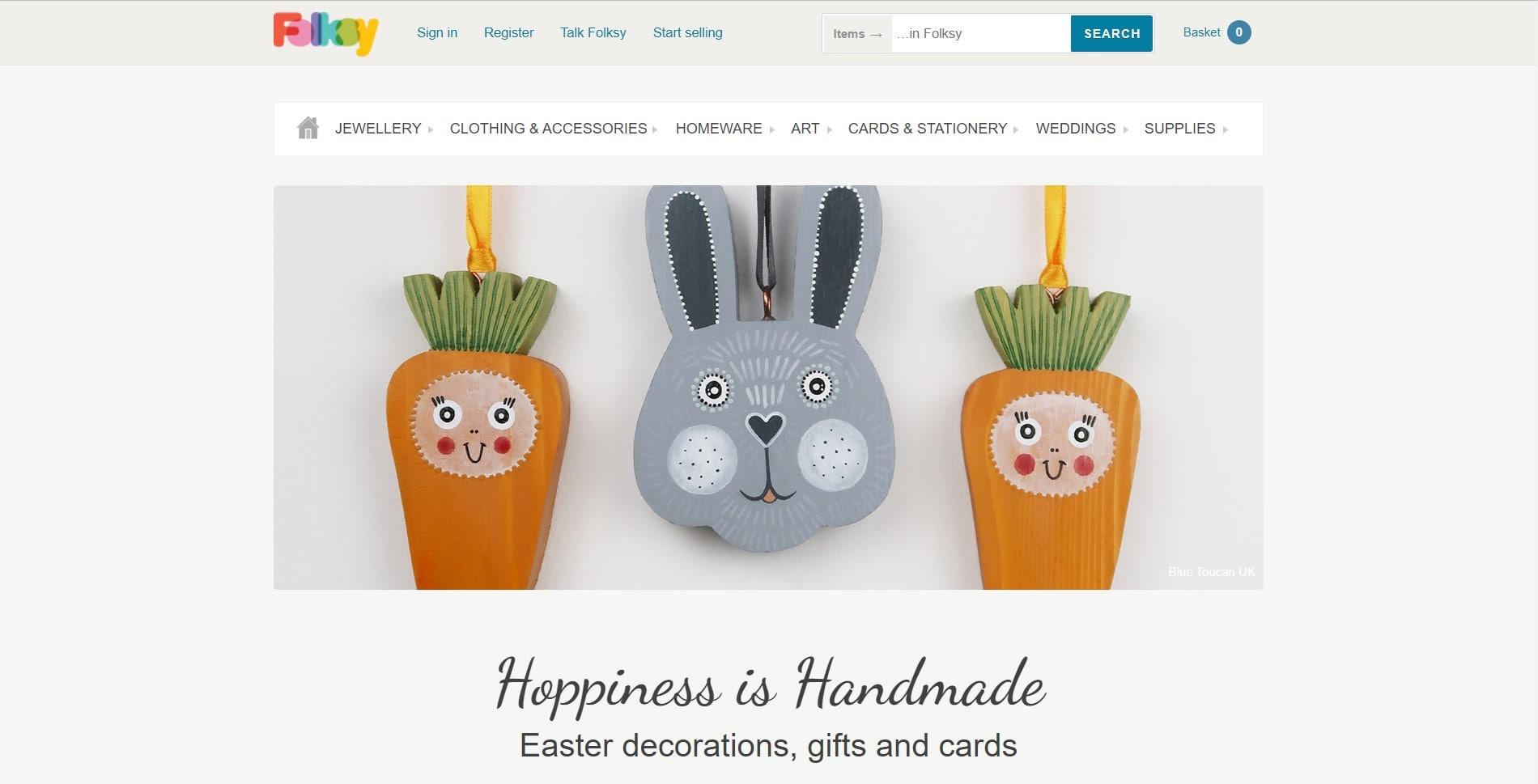 It is one of the best marketplaces included in the list of Etsy alternatives. The platform was created in 2007 for UK designers and makers. Today, Folky is hosting approximately 10 thousand sellers. The number of visitors is more than 2 million per year.
All you need to do is to create an account, choose a tariff plan (Basic or Plus), and publish your goods.
Pros:
Zero shipping costs;

Etsy import service;

Low fees;

SEO optimized platform;

High level of security.
Cons:
The main audience is from the UK (85%);

Less popularity compared to Etsy.
Bonanza
This platform is able to satisfy both types of users: those who wish to operate on the Bonanza marketplace and who want to have a separate website. So, you get twice as many opportunities to attract and retain customers.
The platform appeared in 2007 as an eBay alternative. Today, Bonanza is a strong competitor for numerous niche marketplaces including Etsy as well. There were more than 10 million visits in 2021. 64% of the audience is from the USA.  
Pros:
Universal option (you can create a website or add your goods to Bonanza's catalog);

Turbo traffic feature to boost your sales;

Low commissions;

Multiple tools (import of products, statistics dashboard, and so on).
Cons:
Insufficient customization of specific article lists (their designs).
Thus, you should definitely consider Bonanza among the online marketplace Etsy alternatives.
Zibbet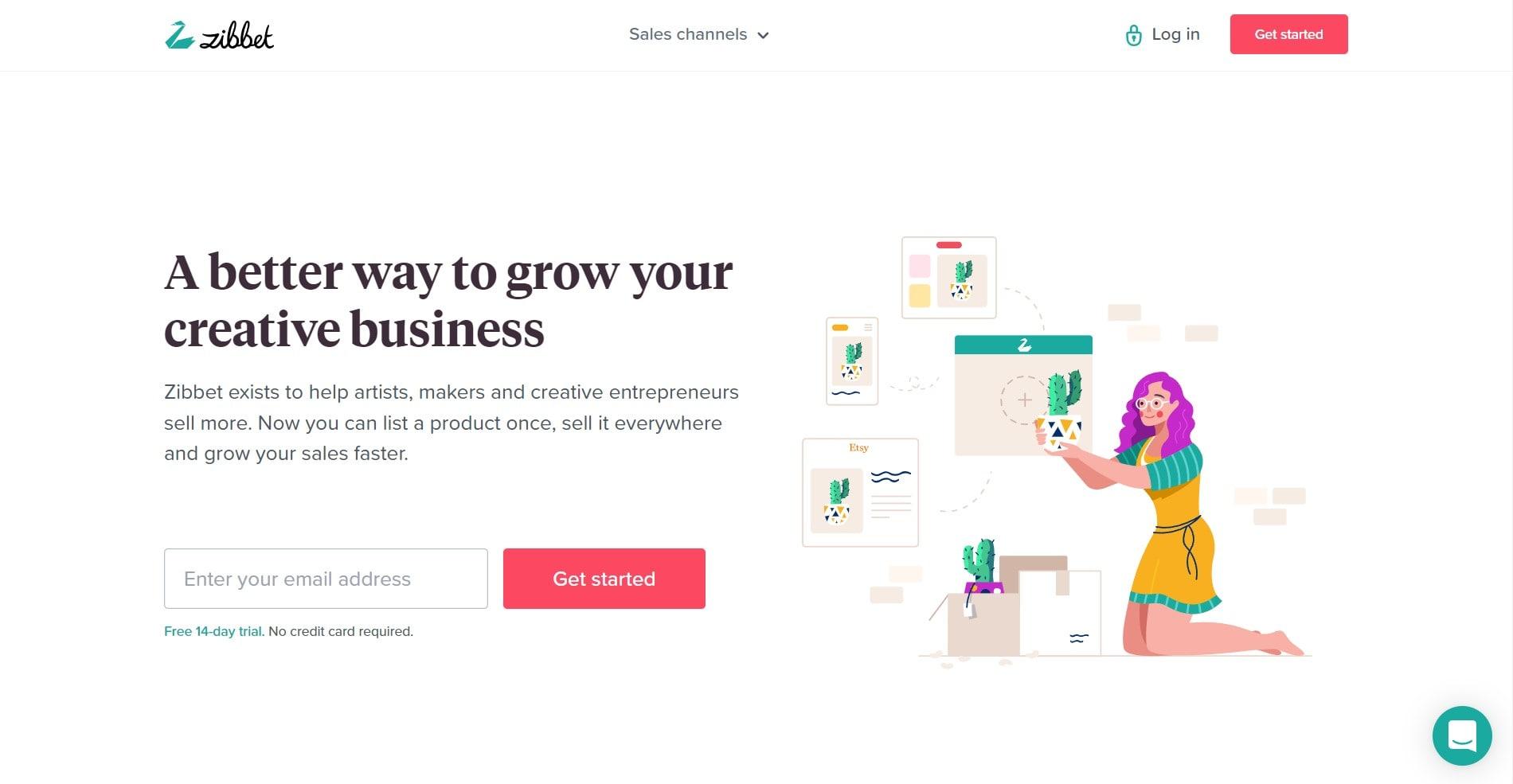 It is a solution made to help artists, makers, and creative entrepreneurs sell more. Zibbet allows you to compose a list of products and then publish them over multiple sales channels. You need to add these channels in the admin panel.
Zibbet has an estimated web sales of $10-25 million. The platform attracts unique traffic of 28,126 visitors per month (primarily from the US).
Pros:
Loyal fees (the cost is 0 if your product list consists of up to 10 items);

The opportunity to sell on different channels managing your goods in one place;

Steady growth and development of the marketplace;

Easy integration of an existing Etsy shop.
Cons:
Lack of some features, which are available on Etsy;

Only PayPal is supported.
Amazon Handmade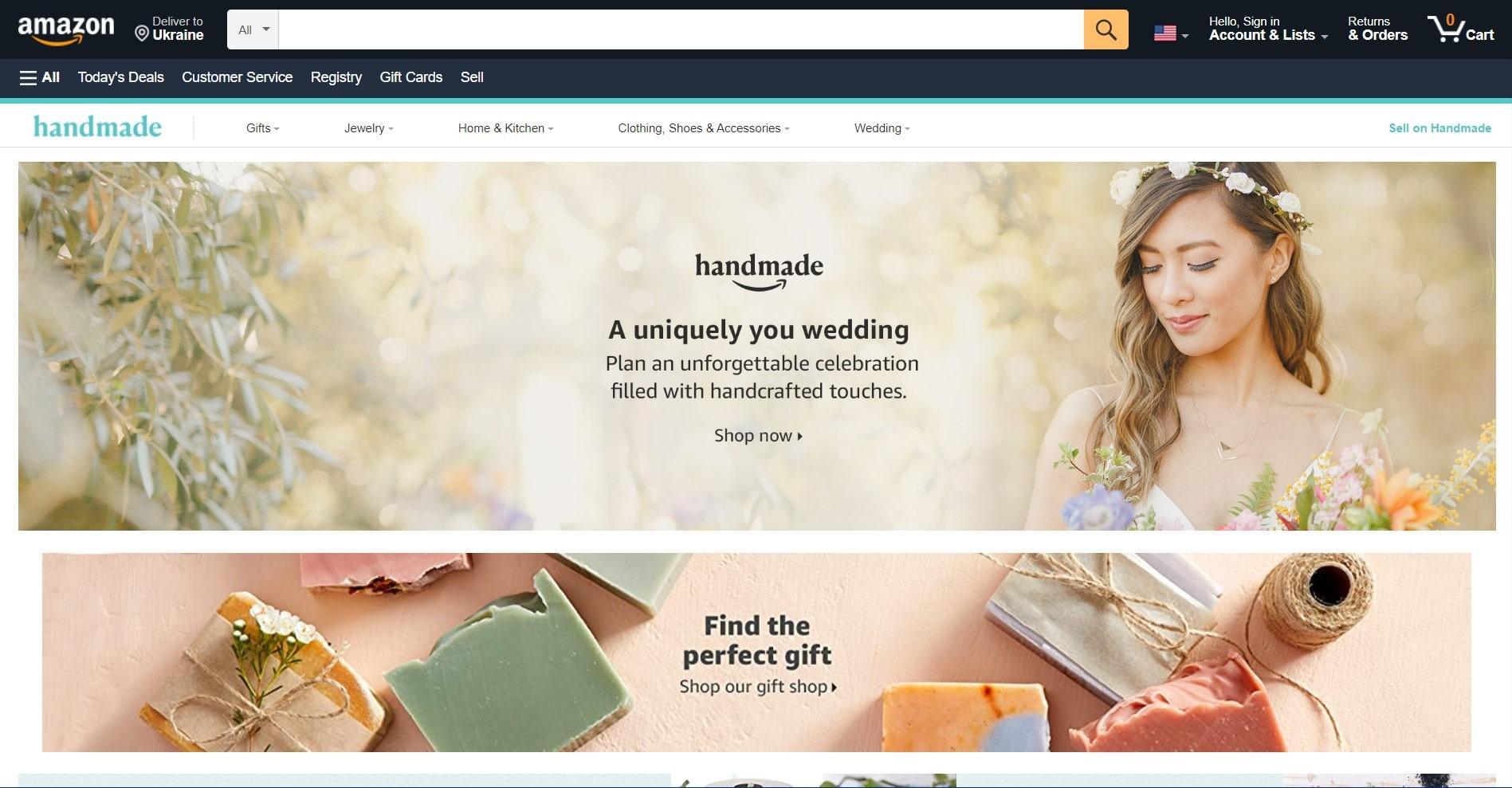 This wonderful Etsy marketplace alternative is a great tool for promoting and expanding your business. Amazon marketplace reports 6.3 million sellers in the handmade section but not all of them are active. In September 2020, the platform saw 2,44 billion visitors. The revenue was $386 billion.
Amazon has made its name for fast deals and convenience. That's what buyers associate the platform with, and why they flood it every day.
Pros:
Extremely high popularity;

Unlimited opportunity (you can sell not only handmade items);

Multiple variations (numerous customization options).
Cons:
High commissions (15% from each sold product);

Strict rules regarding trademarks and copyrights;

Inability to control the look of your shop.
Zyro
This is a rapidly developing platform, which is aimed at users with zero coding skills. You can easily create your own independent website using the drag-and-drop development principle. Note, that Zyro isn't a marketplace, so you'll have to rely on different marketing tools to stand out online.
There are more than 100 thousand sites published with the help of Zyro. And the number is going to grow.
Pros:
Extreme simplicity (drag-and-drop interface);

AI-powered tools;

Useful photo repository;

Unlimited storage and bandwidth in all plans.
Cons:
Lack of features to edit photos and change design templates;

No free tier.
Unfortunately, we are not able to consider each platform. We also recommend drawing your attention to the following list of Etsy alternatives.
Marketplaces:
ArtFire;

Storenvy;

Society.
Website builders:
Big Cartel;

Squarespace;

Wix;

Weebly.
What If I Want to Create an Etsy Marketplace Alternative?
While comparing alternatives to Etsy, we have come to a conclusion: there is no perfect solution, which would fully meet the requirements of users. Each platform has certain cons. And sometimes the disadvantages are significant.
Perhaps, you should try to combine the best features of the mentioned resources in one product. Planning the launch of a new platform must be performed with a professional development team. Experts will conduct the Discovery phase to estimate popular platforms in the market, and identify their weaknesses that can be hit. Moreover, specialists will determine the necessary stack of technologies and resources to decide the budget you need.
The launch of an Etsy marketplace alternative is a great way to financial independence. However, it's possible only if you cooperate with high-experienced developers. We are here to help you implement all your ideas. Just leave your contacts in the form below.
---
Get in touch
Send us your comments, suggestions, questions, or feedback.