Does your website really need a live chat software?
Published on:
April 10, 2022
Last updated:
March 20, 2023
The search for new ways to turn website visitors into real clients sooner or later leads to the idea of adding a chat option to a web resource. The reason for this trend is simple: people no longer like to call, they prefer to write messages with their questions. Moreover, your customers expect to receive the answer in online mode, immediately, which means that e-mail won't do.
That's why so many sites have integrated a live chat tool. It remains to figure out whether your business really needs such a feature and whether you are ready to follow a proactive chat strategy.
In our article, we're going to tell when the live chat software brings additional customers to the business. Also, we'll explain how to use it at full capacity and get a positive result.
What is a live chat

?

Modern Internet resources are trying very hard to improve their interaction with users. Among other things, they add a chat support channel - a special service that allows site managers to advise clients on certain issues and solve their problems online.

Contrary to the opinion of some webmasters, a live chat solution is a rather important element of the resource. Users always have a number of questions and want to get an answer as soon as possible. And effective chat support will come in handy in this respect. You'll have helpful conversations with your customers round the clock.

But what is a live chat, after all? What does it look like?

In fact, this is a small window that appears on the site page in front of the user with the offer of assistance. The key factor here is real-time communication, which distinguishes a live chat from forums and emails. It means that a user gets the desired answer almost immediately.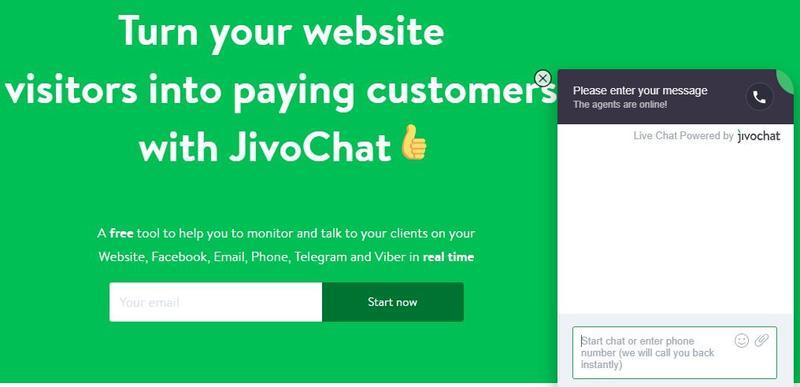 Companies usually hire special employees to answer questions of the site visitors or use chatbots for this purpose (programs that communicate with users, imitating human behavior). However, the more common practice is to combine both approaches, so you can achieve the result you want. Then again, the issue of organizing your support team will be discussed below.
Which business areas can benefit from the

live chat software?

You must admit - a live chat software for business is not a bad idea in any case. But, perhaps, you want more specifics? Let's see who might benefit from a website support chat!
#1. B2C goods and services
Online support chat would be helpful, first of all, to the Internet shop and benefit not only its clients but also its owner. In the short term, it's an increase in conversion, and if we're talking about the long-term prospects, it's the growth in clients' loyalty.
And, of course, web resources providing different services should take advantage of the live chat online either. When ordering online services, people often doubt, seek confirmation of quality, etc. And chat conversations can solve their problem, quell their doubts. However, similarly to the previous example, the use of this feature will justify itself only if the one-time cost of the service is high enough.
Anyway, you should carefully calculate everything before adding live chat to your online store and take into account possible expenses. For example, you'll need a huge team of support staff, and it costs money.
#2.B2В goods and services
Online technical support chat for the B2B area is especially effective, as the goods and services in the business market usually have a complex structure, a large number of options, and individual solutions.
But the consultant should know the product and the needs of the client very well, he must have great customer service skills and be trained to follow the proactive chat strategy to obtain the lead (purchase requisition).
More specifically, the live chat support is needed in such business areas as:
E-commerce

Real estate

Healthcare

Consulting

Banking

Beauty

Fashion

Fitness
That is, we mean areas where people often have questions: is there the right size? Can I make an appointment? What should I do with my credit card?

10

Live Chat Benefits
#1. Improving the quality of service
A free live chat is the fastest, easiest, and most unobtrusive way of communicating with the consumer (if you compare a phone, email, social networks, etc.). In addition, you can have chat conversations from any platform you like including a smartphone, tablet, or desktop PC.
#2. Conversational commerce
Conversational commerce implies that the user makes a purchase of goods or services during a casual conversation with a consultant. Previously, it was possible only in real stores, and now web resources can take advantage of such a chance to increase the profitability of the business too. Effective chat support and helpful conversations with your customers are the best way to reach the goal.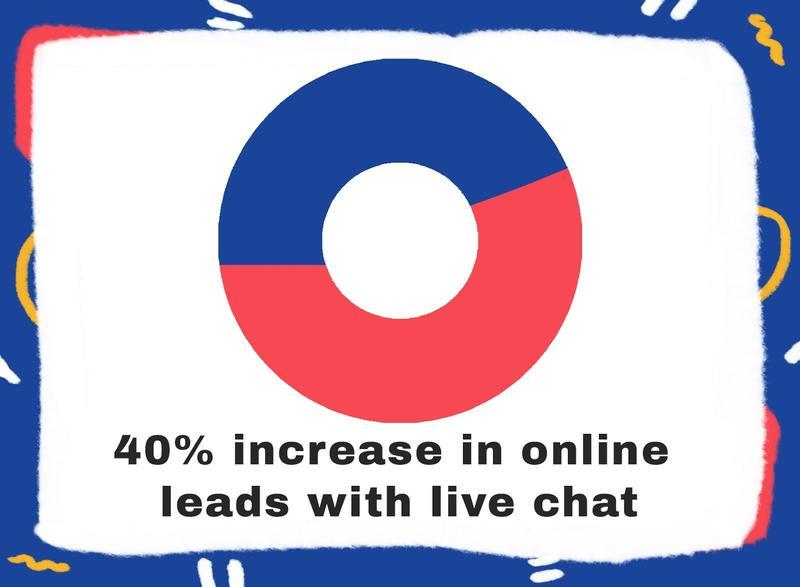 Moreover, during the dialogue, all the necessary information about the client is being collected, and, as a result, the person gets the most personalized, attractive offers.
This method is used by many modern companies including well-known famous brands (like Tommy Hilfiger and H & M).
Therefore, integrate your chat tool and hire competent employees to generate additional sales.
#3. A powerful tool of interaction
A lot of people lack the consultation of a living person, they need an illusion of real communication. And there is more to it! Through the live chat for customer service, a user receives the information he needs right here and right now, which is, obviously, the most comfortable way.
#4. Information gathering. Analysis
The ability to work with information is another example of live chat benefits. All data obtained is being saved and then analyzed. This approach allows the business to work on improving the product by taking into account the wishes and preferences of the audience.
#5. Cost reduction
Yes, a live chat saves companies money.
The most obvious way to save and reduce your expenses is to decrease the number of phone calls. In addition, you'll maximize productivity because the manager would be able to communicate with a couple of clients at the same time.
Adding live chat to your online store (or another resource) is a fairly simple process that does not require excessive costs.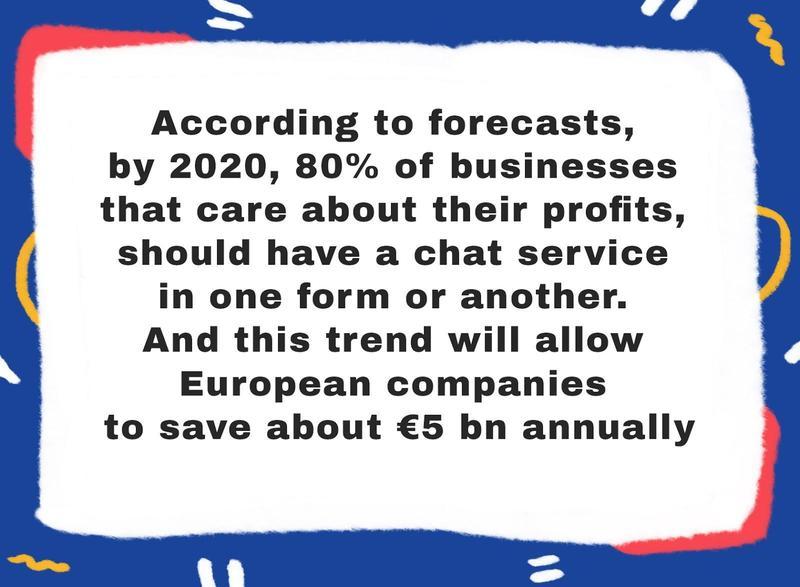 #6. Competitive advantage
The need to stand out among competitors never falters. The number of sites offering a variety of goods and services has been constantly growing, and the user can easily switch to another resource. The ability to ensure great customer service may help the company to outsmart its competitors.
#7. The solution to a problem in no time
The help articles on the site are able to solve a lot of clients' problems. But what if a person does not have time to search for the necessary information? Or, maybe, he is unfamiliar with the process? Making use of the live chat customer service, your customer gets his answer to the question or a link to a page with detailed information on the topic without any delay.
#8.The growth of trust and loyalty
Any business is based on long-term relationships with customers, and therefore, is related to the trust issue.
People, as a rule, feel more confident and at ease, if they know they can start chat conversations at any time and ask the question they want. And a satisfied buyer can become your loyal and regular customer.
#9. Updated information
The chat support manager can have the most up-to-date information and consult in accordance with those changes which have not been added yet.
#10. Increasing Conversions
All of the foregoing logically lead to this point of live chat benefits - the growth of conversions. Timely and proactive chat messages are the best way to force a client to make an order.
Are you ready to support in 24/7 mode?
It is not enough to integrate your chat tool. To make the service perform its main function and bring benefits to your site, you need to be ready to support in a 24/7 mode.
We've already said that you should hire a huge team of support staff, and we repeat it again. You need qualified personnel - people who understand that each user writing a message is an interested potential buyer, and the main task is to convert him into a loyal customer.
Let's analyze the main problems reducing the efficiency of the tech support chat:
Response with a great delay. According to Inside Sales, the conversion directly depends on the response time, namely: how quickly does the manager answer the client's question? The response within five minutes increases the probability of establishing a contact 100 times. A response with a delay is the key reason why live chat software sometimes hurts business instead of improving its profitability.

Impatience

. The main technical defect of some live chats online is the "one-off" dialogue. If the operator thinks that the visitor has left the site, he closes the conversation, and the user will have to start it anew, and it isn't good. That's why the manager should be forbidden to conduct more than 3 conversations at the same time.

Lack of information

. Quite often, the online consultant stands apart and serves as an independent communication channel, which neither stores the history of messages nor collects information about the client. Sometimes he doesn't even own all the data about the company business! He just knows how to communicate and thinks it's enough. But this is a fundamentally wrong idea! The conclusion: your online assistant should be a real expert in his field (or be able to obtain the required information in a matter of minutes).

Inconvenient UI/UX.

The live chat window should not be too big or inconveniently placed. It mustn't serve as a "veil" and hide useful content or menu items.

A large clickable logo of the

chat tool provider. Logos of providers and links to their web resources are present almost always by default, especially if it's about free live chats. And the task of yours is to find an option with an adequate logo. Otherwise, visitors will leave your site after a random click.
We've outlined the problems, but what is the solution? How to get the online support chat to show all its potential?
In other words, what should be your proactive chat strategy?
#1. Train your team
Employees responsible for interacting with users through a live chat tool should be well aware of the nature of your goods or services (or what do you offer?). A good option is to provide online managers with answers to the most popular questions, so you may significantly improve the effectiveness of their work.
#2. Provide a 24-hour support mode
The opportunity to communicate with the operator must be available at least during the full-time workday, theoretically - round the clock (it'd be the best approach). Make sure that you have such an employee.
If all operators are busy, you still cannot leave the visitor unanswered. So you have to set up the right scripts and triggers to guarantee the loyalty of your potential clients. For example, you may automatically send a message to the user asking him to wait or to write down his email address. Or you can use the chatbots we've discussed earlier. A simple chatbot has minimal features, whereas its advanced version is a complex program with a machine learning function. The final choice depends on your budget.
#3. Avoid stereotyped responses
The whole point of adding a chat option to the resource is to give customers the experience of pleasant communication and help from a real person. Predictable and therefore useless answers would negate the entire effectiveness of the live chat solution.
#4. Analyze!
Analyze the history of the messages to figure out what the potential customers most often ask about, and what interests them. Solve their problems and improve your business processes.
#5. Sell, not just consult
As we've already written, a live chat service can and should become an upselling tool. This approach gives good results (especially if your managers are not just skilled consultants but also talented salesmen).
#6. Simplify the work of the manager
A chat operator, as well as a customer, needs flexibility and wide capabilities of the service. The whole idea is to simplify all the processes, so let's do it!.
Provide the widest possible variety of live chat features: the possibility to respond at any time and from any platform, collecting key information about the user, saving the history of chat conversations, and so on.
#7. Think about the design of your

live chat

If you want to add a chat support channel and get a great result, take care of its design, which means:
call to action. You must send a proactive chat message which will interest the user, attract his attention. Usually, we see something like this: "Need help? I'm ready to assist!" Try to show originality - it must be a real live chat invitation. At the same time, avoid importunity. Do not irritate the user, try to engage him in a chat session and inspire him to ask questions.
image and name of the consultant. Another key point is the choice of the image of the consultant and his name. It will enhance the illusion of real communication.

visual style

. The live chat design should match your resource and the mood created by the site content.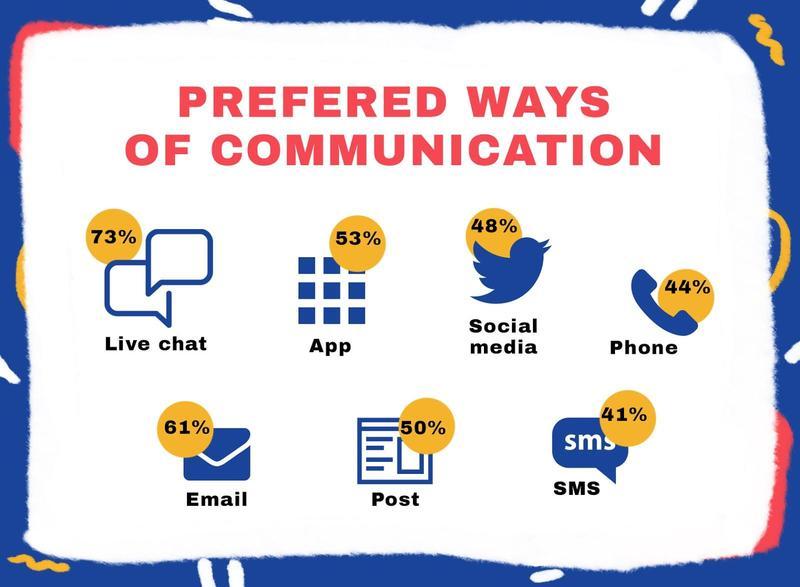 Finally, we'd like to describe the ideal chat support operator who should:
know the range and features of goods (or the nature of services)

be able to identify the buyer's needs

conduct a respectful and friendly dialogue

offer alternative products or solutions if needed

write competently, without grammatical blunders

quickly find solutions

be able to sell.
Top

live chat platforms

And now let's look at several live chat platforms - the most popular solutions.
#1. Slack
Slack consists of chats broken into channels and has many great benefits. Taking advantage of this tool, you'll own effective live chat software.
Slack's functionality:
The channel system

. For each topic, you can create and manage your own channel.
Storage. It is possible to get 5 GB of memory to upload files under shared access.

Integration

with a large number of external services, such as Trello, Google Drive, asana, etc.
Availability. The entire archive of messages is available anytime and everywhere.

Convenient search

. You're able to search through the whole archive of messages.
Reminders. The chat tool offers a convenient system of reminders. This can come in handy if you are afraid of forgetting something important contained in a specific message: the user is able to set a reminder right inside the message of interest.
#2. LiveChat
LiveChat is another convenient live chat service for communicating in real time with consultants on various issues that may interest your clients.
LiveChat functionality:
Convenience

. All chat conversations, as well as data on the client, will be displayed on his amoCRM card.
Support for multiple platforms. LiveChat also offers a mobile live chat solution, which means your customers would be able to communicate with you even on the go.

Detailed analytics

. The application collects and stores all the information, providing it in the form of convenient statistics (so you're able to analyze your business efficiency).
LiveChat is being actively used by such monsters of the market as Ikea, Paypal, Adobe, and Unilever.
#3. LiveAgent
Live Agent is an online system, which helps to implement efficient live chat support. This multichannel service is in high demand among hundreds of thousands of businesses in Europe and the US.
Live Agent has many functional tasks, and a live chat is just one of them. In general, it is able to assist your clients by acting through a variety of communication channels including e-mail, chat, social networks, Viber, and so on. And, very importantly, all these tools are contained in a single interface.
The most important

live chat features:
Integration with social networks

Rating of managers

File Sharing

Notifications

A system of convenient filters, including an intelligent spam filter

Analytics

Extension with plugins or API
#4. Zoho SalesIQ
Zoho SalesIQ is an online chat system with full tracking of site visitors. The service of website support chat can convert visitors into leads and allows real-time monitoring of the users' behavior.
Zoho SalesIQ features:
Geolocation of visitors

Notifications

Mobile chat

solutions

Monitoring chats

The history of visits and information about the visitor.

File Sharing

Message templates

Reassignment

Blocking visitors by IP

Offline messages

Agent Rating

Branding the

live chat

Chat translation support

Reports

Work with different CMS and e-commerce

Integration of email marketing systems, Facebook, HelpDesk.

Integration with Google Analytics, HubSpot, etc.
#5. HelpCrunch
HelpCrunch is a modern tool aimed at effective communication with customers. It combines a premium live chat tool and email marketing automation.
Features worthy of attention:
compatibility with CRM systems;

statistics (by tracking all user actions);

computer-aided email marketing;

customizable Push Notification system;

mobile platforms support.
HelpCrunch is a good choice if you want to retain your customers and positively influence their level of loyalty (and, consequently, your profits).
Choosing the perfect

chat tool

As you see, today there are a lot of ready solutions. Therefore, it is very important to make the right choice. We advise thinking over these parameters:
Design

. Effective chat support looks stylish and modern. However, we have already explained this point in more detail.

The possibility of integration with the CRM system

. If you work with a CRM system or plan to standardize and optimize your sales, be sure to check the possibility of such integration (as you remember, live chat service is a wonderful upselling channel).

The powerful set of

live chat features. The functionality of the live chat software should serve your purposes, namely, improving the interaction with the consumer. Let's look at a list of beneficial live chat features which would definitely be in handy:
The history of the dialogue, which would help the consultant quickly navigate the situation.
User information. It's one more opportunity to quickly understand the user and help him.
Operator rating, so that the user may always assess the level of the consultant assistance.
Forwarding the question. You can divide the consultants into departments, each of which will answer questions of a certain topic.

Mobile chat

support. Comments are unnecessary! Such a feature is very wanted.
Transferring files, a useful option if the resource actively works with documents or files of moderate size.
Advanced level: video live chat
For some organizations, having an ordinary live chat solution is not enough, and then they should make use of the video chat feature.
As the name implies, video chat gives a chance to communicate in video format. In other words, you hear your interlocutor and see him through a video camera.
Video chat is useful if video calls can be relevant to your business: say, to hold a presentation or a kind of virtual tour through the sections of the site. And if you choose the advanced video chat, it would allow you to conduct conversations with a large number of people in the conference mode.
Let's summarize all the main advantages of using a video chat tool:
the possibility of prompt decision-making;

saving of financial resources;

a significant increase in labor productivity;

the possibility of obtaining expert assistance;

saving effort and time.
Summary
In modern society, trends have been changing very rapidly, and business strategies that have worked successfully in the past are losing their relevance now. To survive, you need to be constantly adapting to a new situation. And one way to adapt is to use live chat software.
As you now know, this is a great tool, but the results can be extremely disappointing without proper support and attention. We hope you understand what you should do to add a chat support channel and reap the benefits.
Let's once again summarize whether you need a live chat:
Traffic.

The real return from such a channel of communication with potential customers appears when certain traffic has been reached. As many site owners claims, it's 1500 visitors a day or more.

Ability to allocate employees

. The need for an individual employee who will constantly communicate with visitors is a must, which also should be taken into account.
And still, the best way to understand if you need live chat support is to install the script on your site and analyze the results of the experiment. As practice shows, in most cases, business owners are the winners.
By the way, if you are interested in adding live chat to your online store, redesigning a site, or creating a web resource from scratch, we are here to help you.
---
Rate this article
0 ratings, average 0.0 of out 5
---
Get in touch
Send us your comments, suggestions, questions, or feedback.