E-commerce Websites And Apps
Published on:
April 10, 2022
Last updated:
March 20, 2023
More and more people nowadays have less time for traditional shopping and in order to buy everything neccessary they are looking for the most convenient ways of purchasing goods. As the situation may refer not only to buying goods, but it also includes various services, thus we have new prospectives opened for so-called Electronic commerce (commonly known as e-commerce or eCommerce).
So, let us see short statistics of this promising segment of the world market. In this way you may also reconsider your opinion on some well-known facts that stimulate the development of mobile technologies in e-commerce:
The brisk growth of smartphones and mobile internet usage nowadays motivate people to use their mobile devices more and more often in everyday life; customers can book or buy goods, check the schedules or maps, make reservations, etc.
Over 30% of purchasing is done online through mobile devices and this number is growing every year.
More than 40% of Internet traffic was transferred through mobile phones and tablets.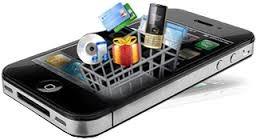 Well, the numbers seem impressive but is there any practical use of this data for an average business, or this might become handy just for world-wide corporations? Can custom e-commerce web development meet your company business goals or will it become just a waste of money? Let us go into the basic pros and cons and sort it out together.
Its expensive. Yes and No. E-commerce development companies do not waste your money for modern technologies like iOS or Android apps; it is the rational investment that will quickly pay off and increase your company income. For instance, mobile app development costs $10,000 and you have it installed 5000 times, therefore you get 5000 loyal clients for only $2 each. And that's just one example, if you want to hear more successful ideas just contact us, we will be glad to answer any question and provide you with any additional information.
It's difficult. In order to build e-commerce website for your business we won't confuse you by complicated technical issues and will process them by ourselves, and afterward you will be provided with clear instructions on how to put data into the mobile app in a simple way. Usually it is a handy admin panel or another appropriate option. You will definitely not need to hire additional employees or learn any special skills like programming languages to operate it.
I still have an old site and I will think about a mobile application after I update it. That is not correct idea, as a mobile app can run independently of a website, thus you may boost sales through the application alongside with your site. Also there is another option to enlarge the audience of mobile users – e-commerce website developers can create an adaptive design for your website.
There are more details about the usage and functionality of mobile apps for e-commerce on our website. Also our team of e-commerce web developers in Agilie company is always happy to answer your questions about mobile solutions for e-commerce.
Thanks for reading,
And see you soon!
---
Rate this article
0 ratings, average 0.0 of out 5
---
Get in touch
Send us your comments, suggestions, questions, or feedback.