Best Ways to Improve Your Business with Mobile Apps
Published on:
April 10, 2022
Last updated:
March 20, 2023
It is not a secret that users prefer applications to mobile versions of sites due to a better user experience, higher speed, and extra features. According to statistics, 61% of modern people called Millennials download retail applications and 58% of them order through these apps on an ongoing basis. Let's find out the reasons why apps are so popular and highlight the benefits of creating a mobile app for your business.
Key Business Benefits of Mobile Apps
Marketing specialists indicated numerous reasons why mobile apps are preferable. We would like to mention the following ones:
Mobile adaptation. How often do you stumble upon websites without a mobile version, which have inconvenient interfaces and work incorrectly? Even nowadays, there are a lot of such web resources. So, provide your customers with a user-friendly application;

Advanced marketing tools. Modern technologies may simplify the interaction with clients: push notifications allow keeping them informed while GPS is very useful if you want to deliver certain offers to the relevant audience;

Higher engagement. Users view 4.2 times more goods per session in apps compared to mobile sites. The reason is a better user interface, which improves user experience;

Speed. Customers find relevant information faster in apps. Moreover, the loading speed of applications is usually higher;

Easy support. The app is able to improve customer loyalty by providing clients with online chat or links to chatbots in popular messengers so that users could solve different problems or get consultations instantly;

Feedbacks. Using a mobile app for business is a good chance to find out clients' needs and pain. Let users rate your service and leave short comments;

Less abandoned shopping cart. Customers get annoyed very soon due to the necessity to enter their credentials while ordering through their smartphones with small displays. As a result, the percentage of refusals from purchases on mobile sites is much higher than on computers. And this is in view of the fact that mobile traffic on most websites exceeds 50-60%. Mobile apps store all client's data simplifying the interaction. 
We can't fail to mention that launching a mobile app is also about an attempt to build a stronger brand. It is proven the branded app is more effective than TV and outdoor advertising.
What to Consider to Make Your App a Success?
When you realize the value of mobile apps for businesses, it's time to think about where to start. First, we recommend paying attention to the discovery phase during the product implementation. This stage conducted by our specialists helps to feature out your true needs, necessary technologies, budget, and risks in your market.
The mandatory thing is to estimate your competitors. By the way, it is a part of the discovery phase as well. This analysis will show you what features should be implemented right now and which ones may be released later.
We have gathered all details about the discovery stage in the article "Why You Need to Start Your Project with the Discovery Phase".
Considerable emphasis should be placed on the user interface in order to guarantee the best user experience. If your budget is limited, think about launching an MVP (minimum viable product). It will allow you to assess the competitiveness of your application and determine the demand.
Top Business Apps: A Few Inspiring Examples
Seamless
Seamless is a food service, which has united more than 35 thousand restaurants in over 900 cities worldwide. This app features an intuitive interface and a huge variety of catering establishments, so everybody will definitely find their cup of tea.
Customers like Seamless for its simple order process and the opportunity to taste delicious food they really adore.
Download: Google Play | App Store
Airbnb
The company was founded in 2008. After it realized the value of mobile apps for businesses and created its own, Airbnb showed sharp growth. Today it is one of the most popular booking services that operates in numerous countries.
Renting flats, rooms, or houses with Airbnb is easy and safe. More than 150 million people successfully found comfortable apartments using the service.
Download: Google Play | App Store
Strides Habit Tracker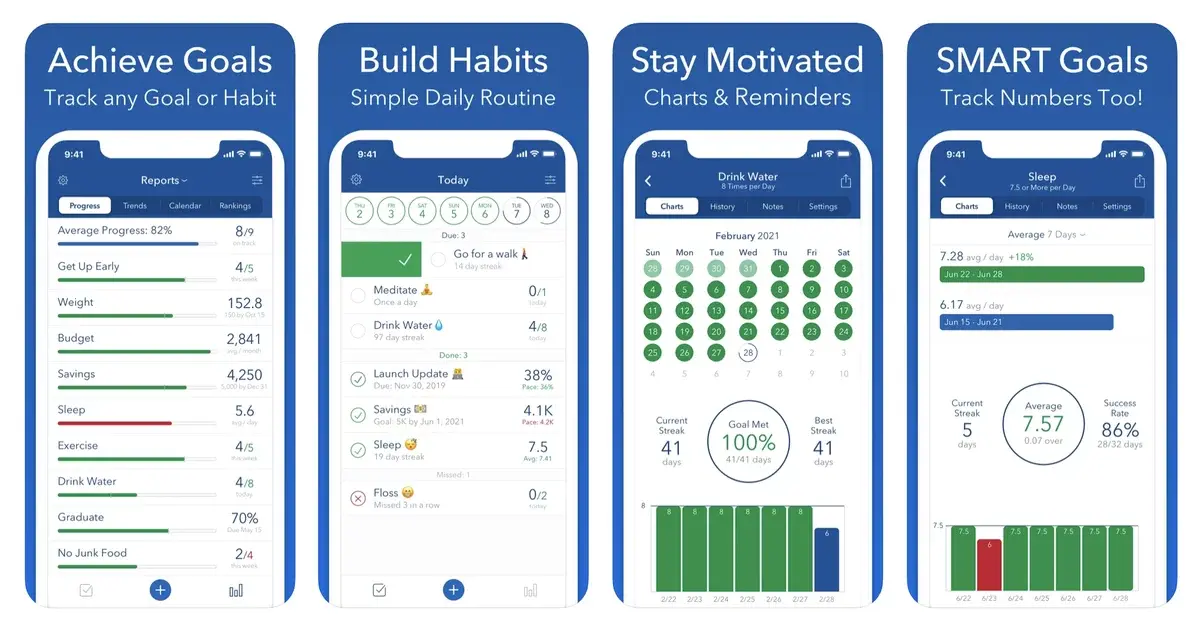 This app is one of the best ways to change your habits. Before tracking certain actions, the user needs to enter his goals separately. Engaging UX allows doing it simply and fast. After adding your wishes to the system, you'll be receiving a daily checklist to help you keep on course.
Download: App Store
Let's Summarize
Thus, most people hate to view websites through their smartphones: they prefer mobile applications. And the statistics prove it:
90% of the time is spent in applications, and only 10% is spent on viewing the content in the browser;

Online shopping in apps takes an average of 201.8 minutes per month while website users spend just 10.9 minutes/month;

In mobile applications, clients view 1,5 times more products per session compared to a desktop site and 3,5 times more goods compared to a mobile browser.
If you have already assessed the benefits of creating a mobile app for your business, don't hesitate to contact us. Together we'll create a cost-effective and useful tool that will definitely expedite the development of your business. The main thing in this intention is to hire a professional team, which Agilie is. Start using a mobile app for business in the shortest possible time with us!
---
Rate this article
0 ratings, average 0.0 of out 5
---
Get in touch
Send us your comments, suggestions, questions, or feedback.