All About Responsive Design: Why Does It Matter?
A good web design is about delivering the best user experience on any device. Agree that creating several design versions is often an irrational decision. So in order to reduce time to market and focus on important things while launching a project, developers practice responsive website design. It's a technology, which allows adjusting elements to various screen sizes and resolutions. 
What is Responsive Web Design

?

In brief, responsive design is a special approach to the graphic user interface that is created to accommodate content smoothly to diverse gadgets. It significantly simplifies the work of designers because the creation of mobile and desktop design versions is not necessary.

The users' requirements for web resources have enormously increased: without an attractive and user-friendly design, your project is going to die. Nowadays, mobile traffic exceeds desktop one more than twice. So, it's not enough to create a modern PC solution: designers and developers must provide the same experience for mobile users.

Within responsive website development, designers assign relative units (%) to the elements. As a result, the entire screen is filled with content. The solution responds to the user's actions and parameters of his device (the size of screen, platform, orientation, and the like).
Why is Responsive Design so Important?
The 2010s were a turning point in the IT industry when numerous users acquired portable devices. And the number of gadgets is constantly growing from year to year. Designers and developers realized the irrationality of creating several design layouts for one project when it's possible to adapt an existing mockup to all screens and resolutions.
There are numerous reasons why you should implement a responsive design.
Providing the same user experience (total design uniformity and seamlessness).

Ability to use diverse CMSs and frameworks.

Rapid implementation (no need to make up two versions of the site).

SEO-friendly option (SEO specialists can avoid using redirects to speeds up the loading of the site).
Of course, the solution also has certain cons, which we cannot help mentioning.
Minimum control over screen sizes.

Shifting elements on their own.

Issues with adapting advertisement formats.

Longer load speed (high dependence on the quality of the written code).

Complicated front-end code. So, you should give a preference to a professional team to avoid failing your project.
Helpful Tips for Responsive Design
We have figured out that responsive web design is about unanimity for all devices. So, the rules of its creation may be unclear. Below, we have listed a rundown of some pieces of advice.
Given the predominance of mobile traffic, the main emphasis should be made on the mobile website version. Tips we would like to highlight concerning this thesis:
Focus on the mobile version and then suit it to larger screens.

Don't forget that mobile users require bigger buttons (more than 40 px).

Mobile design must be twice as intuitive as desktop one because limited display space can be confusing.
It is important to use Scalable Vector Graphics (SVGs), which don't blur after significant scaling. Otherwise, you'll see pixels that negatively influence the user experience.
The priority should be minimalism. Within the framework of the concept, it is necessary to prioritize content and hide unimportant pieces. The feature of progressive disclosure is going to be useful.
Make sure that fonts and other parts of responsive web design are selected correctly. A good solution is about using contrast and background effectively. Some fonts can look awesome on a mobile screen and be inappropriate on the large screen of a PC.
The main thing while implementing a responsive design is to rely on experts because it is a big challenge to move from pixels and inches towards grids, use a viewport, responsive typography, and so on. When flexible grids are created with the help of CSS, the columns automatically rearrange themselves to fit the screen size or a window of your browser. It doesn't matter how big the user's display is.
Examples of Responsive Web Design
Answering the question "What is responsive web design?", we can't fail to cite a few instances. Let's take a look at some web resources.
Dropbox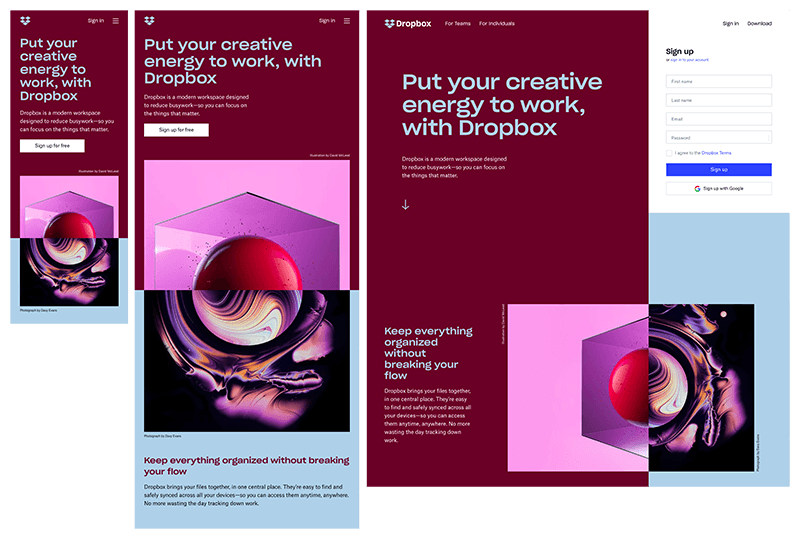 The service has applied fluid grids and flexible visuals to provide the audience with a tailored user experience. The background, images, buttons, and other elements accommodate the new screen parameters in no time.
Some design elements (an example is an arrow, which allows scrolling down) are hidden in the mobile version because scrolling is performed by using the touchscreen.
Slack
The brand pursues the aim to be simple and human. So, their website completely fits the concept. The size and shape of your screen don't matter: you won't definitely suffer while consuming content.
GitHub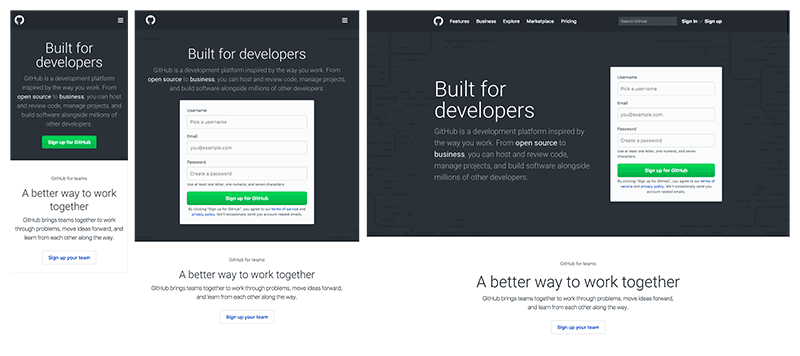 When shifting from a desktop to a mobile device, some elements disappear or change their arrangement. An instance is the signup form: in order to fill it out on your smartphone, you first should click on an appropriate button, which is absent on the PC. Concerning hiding elements on the responsive website: GitHub removed the search bar and menu on handheld gadgets.
Dribbble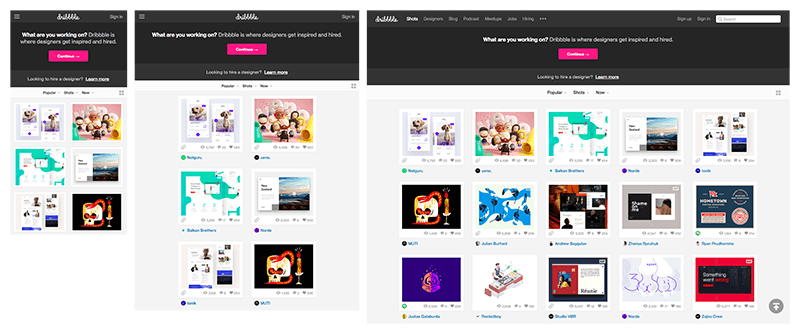 Our favorite web resource, which we use to present design works. As GitHub, Dribble hid several items on mobile devices to prevent clutter. There are no shots attributed to their maker. In addition, you won't find the view, comment, and like counts beneath each post.
If you wish to get acquainted with our works on Dribbble, please open the following link: https://dribbble.com/agilie
Summary
Thus, implementing a responsive design is a preferable solution if you desire to launch a modern website, which would be relevant for decades to come. Previously, the vast majority of people visited sites using personal computers with similar screen parameters. Nowadays, there is a huge variety of different devices with displays ranging from a few inches all the way up to 27″ or more. Despite that, users expect every website to be convenient and look the same.
Our team is ready not only to develop the conception of the future web resource but also to provide the full range of services for its implementation. We offer the Discovery stage, thought-out design, debugging, and so on. Just contact us in any convenient way. You can use the link to fill out a short form: agilie.com/contacts
---
Get in touch
Send us your comments, suggestions, questions, or feedback.