Agile Methodology (Scrum)
Published on:
April 10, 2022
Last updated:
March 20, 2023
Scrum is the very popular agile methodology for managing product development and project delivery. Scrum is the framework that could be applied for the development of product use cases, different projects or entire products. A key principle is to provide a flexible way and effectively create a product or service in any industry.
Our company uses this agile project management method. Each project development phase starts with Product backlog. There are several values in project Product backlog: identifier, Story name, Importance (story points), initial estimate, and how to demo this part. This is a required step to start planning future sprints. The sprint information contains sprint goal, sprint length, standup time and sprint backlog.
Regularly sprint durations are equal to 1-2 weeks because it doesn't make sense to process bigger scope of work without internal delivery. Each sprint is split into small tasks that are assigned to team members. Below there is the special desk to display these assignments (this is the real example).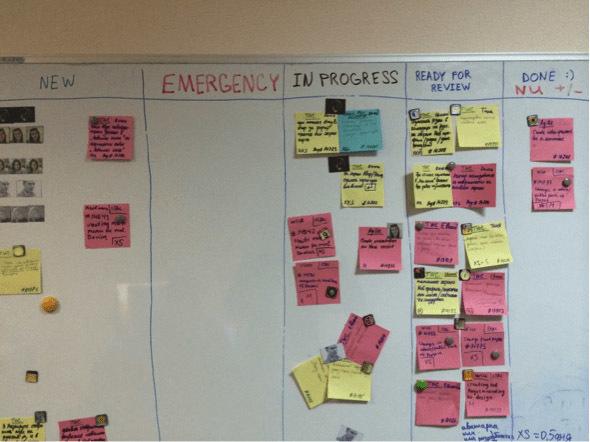 This ScrumDesk is a part of Scrum methodology workflow. There are a lot of different types of such kinds of desks (both physical desks and software based services) and this is still one of the best ways to visualise the project development process.
Within this process we're using the estimation to indicate the duration of user stories by T-shirt sizes: S, M, L, XL. Our example has 5 priority columns: New, Emergency, In progress, Ready for review, Done. This does not look like a classic desk view, but our team prefer this style because it fits internal processes very efficiently. One note, emergency column represents the most urgent and critical tasks.
There are very strict rules for each team member to change statuses every day and provide the progress in this way. Project manager follows general process, analyse the progress and reports back to the customer with the overview. This kind of project development provides a very flexible way for both team and customer and allows to deliver a product in quality and in time.
---
Rate this article
0 ratings, average 0.0 of out 5
---
Get in touch
Send us your comments, suggestions, questions, or feedback.