9 Symptoms of Website that Needs an Immediate Redesign
Published on:
April 10, 2022
Last updated:
April 25, 2023
The website is certainly the key constituent of your digital strategies. When owning an old-fashioned or low-quality platform, don't expect it to be of any good use, since it'll only harm you and your business. Such outdated services will surely scare off potential customers and ruin your company's reputation, cos mentioned web resources don't get any positive reviews or comments. The site in 2020 has to be the face of your company.
To make sure that the face is decent and appealing, you might have to think of building your website redesign plan. Does the process seem to be too challenging and complicated? No need to panic! It's a lot easier, and we'll describe the 9 warning signs indicating you need to follow the examples of website redesigns. And we shall begin.
Design is outdated
Undoubtedly, it would be convenient to have a clearly-set period upon the expiration of which you should redesign an existing website. Regretfully, there's no such a specifically established timing, however, a wise approach could be to invoke website redesign strategies every 3-4 years. The thing is the technologies are changing so fast, and SEO techniques have to keep abreast of the times.
Was your platform launched more than 4 years ago? If yes, then your website needs a redesign. That'd be the perfect moment to figure out the true worth of a website redesign, as well as to analyze the extensiveness of impacts such a process would make on your company.
Nowadays, web surfers know exactly what a professional resource is and how it looks. When a website is overloaded with poorly calibrated pictures, having the content placed badly, and, moreover, with an incompatible color palette, users won't perceive such a platform as a professional one. Consequently, a site and a brand it represents shall lose their trust, and prospective clients might have serious doubts about its products and services.
In case you don't want everything mentioned above to happen with your business, think carefully about creating your website redesign strategy. You're developing the site to make it your company's face. In most instances, potential customers are gaining the first impression on a business by means of online resources way before they actually communicate with a staff member. Keep it in mind while building the website redesign plan to turn your service into your strong suit.
With the purpose to enhance trust between you and your audience, spare no effort to deliver a professional, advanced and modern-day web resource.
Poor conversions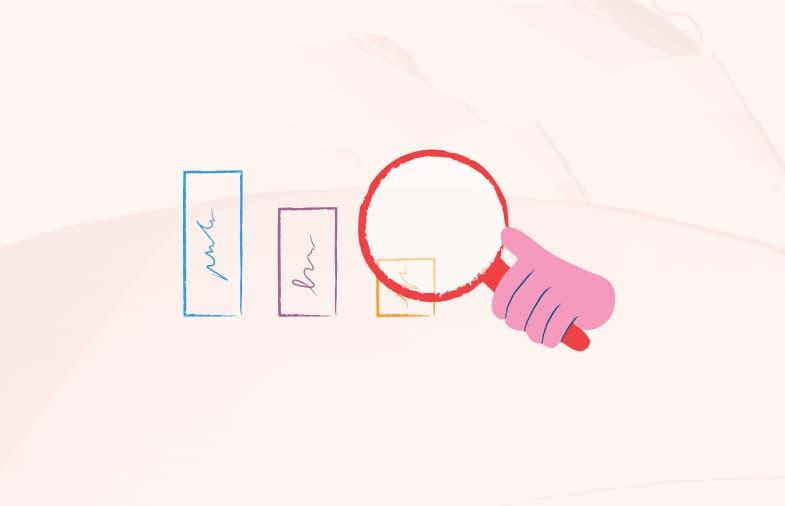 The objective of any kind of a business online platform - no matter if it belongs to an insurance company or an e-store - is to bring leads, contracts or inquiries. With no sales, there'll be no revenue.
Devoting enough resources to marketing strategies and still experiencing a certain decline in lead numbers and e-sales? Under the circumstances, we would strongly advise you to redesign your website. Out of date web service could lead to the mentioned undesired effect.
Before you get down to planning your website redesign strategy first and foremost you should better identify whether there exist other causes why your site doesn't win the leads anymore. Is your platform structured in the best possible way to encourage sales? Make sure you're not missing any critical page elements to support conversions, like comprehensive Call To Action components, specific content targeted at your final demographics, etc.
At the end of the day, low conversions serve to be an obvious sign telling you actually need a website redesign.
High bounce rate
That'd be one more indicator to consider the redesigning of your existing website.
It's crystal clear - your site requires analytics. Google Analytics is a pretty decent tool to apply. Haven't you connected your service to such an instrument? Better hurry up to enjoy all analytics advantages!
In case you see your bounce rate is over 80%, you have to undertake tangible measures urgently, and website redesign tips could be a true asset to rectify the situation. Aren't you sure what "bounce rate" actually stands for? Let us explain to you such a phenomenon.
In fact, the term refers to online marketing notions applied to analyze Internet traffic. The mentioned concept shows the proportion of visitors entering the platform and then leaving it - so to say, "bouncing" - not willing to explore other pages of the resource.
The ratio is computed by calculating the number of one-page visits, and that figure is divided by the number of all visits. The bounce rate helps with determining the efficiency of a page people enter reflecting whether the given page is of interest to users. Pages having low bounce rates manage to draw the audience's attention motivating them to further explore other site pages.
Bounce rates of different web pages shall vary. Let's say, a home page will have a lower index compared to a "contact us" page. As a matter of fact, there exist multiple factors resulting in high bounce indicators of pages, say, slow pages loading, vague content, low-quality UX designing, and much more.
After noticing high bounce rates of your program pages, you better admit the necessity of redesigning your website in the immediate future.
Website is not responsive
Here's another reason to create your website redesign strategy. We shall get more specific.
Have you ever checked in what way your platform looks like in its mobile version? Is everything presented properly? What's happening with the images or the menu panel? It would be a quite wise decision to take care of such an aspect making sure it's all adequately adapted since the ratio of mobile traffic is dramatically growing every single year.
The graph below clearly presents the Statista report on mobile internet traffic as a proportion of the overall web traffic. The analysis was carried out in August 2019.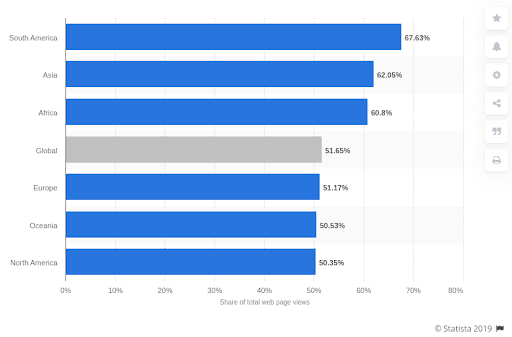 No doubt, nowadays website responsiveness is more important than ever, so you might want to include the website redesign on your checklist for 2020 to fix possible drawbacks of the existing service.
Users definitely prefer to use mobile devices performing whatever they need online. That's a fact. The days of desktops are almost gone. Feeling current tendencies Google has decided to remove the rankings from the desktop and to base them on the m-version. Consequently, to strengthen the rankings your website has to be self-executing to adapt its content to screens of various sizes, which means your resource must be responsive.
You need to take care of your audience, so they won't get annoyed by using their fingers to zoom the page content to be able to see it. It's truly irritating when you keep clicking the link you don't need because the screen is too small. It's all about responsiveness.
In case you feel you need to improve your site adaptivity, think about how to redesign your already existing website. Multiple services have experienced the genuine value of website redesigning, making their platforms user-friendly and converting an impressive amount of traffic.
Slow download speed
Don't underestimate the value of speed, since it's crucial. A common-sense proves that nippy and winky web pages always excel slow platforms. Various researches on-site loading time demonstrate that an abandon rate grows sharply when a page is loading more than three seconds.
After checking some figures on shoppers' behavior, you'll surely decide if you require your e-commerce website redesign (of course, if you have one). Let's explore the true price of one second at your web resource.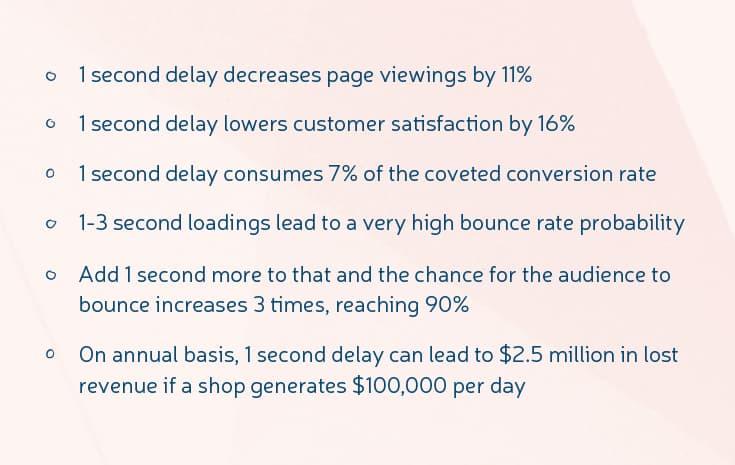 Of course, the statistics concerns only eCommerce solutions, however, we're sure, you have re-considered the power of one second. Keeping this in mind, you might look at website redesign costs in completely new ways, realizing that website redesigning could actually generate some profit to you. Don't give any chances to your audience to get irritated with too long loadings, so they'll simply quit.
For your website presence to get increased great loading timing has to be supported with a platform overall upgrading, revamped plugin installing, theme updating, and sufficient hosting powering. That'd be what website redesign strategies are all about.
Well, the question is what's the most optimal time period for a web page to get loaded. Statistical data claims a desktop page shall need 3-4 seconds, and a mobile screen shall comply with 9-second limits. However, let's be honest - the quicker the better.
The reality is when having a small or medium-sized resource with a robust server a page shall be able to get uploaded within 4 seconds with no troubles. In case your service is a way above the breaking point you could take advantage of the website redesign checklist to optimize your pages displaying the most vital data within those 4 seconds. Then you'll easily overcome high bounce rates.
40% of users prefer to leave a web page in case it takes over 4 seconds to upload, and after it happens platform owners get negative users' experience, reduced site conversion, and poor search engine ranking. It doesn't sound like something you're looking for, right?
Forward-thinking entrepreneurs test their resource loading time performance per annum. Thus, they know right away when their website needs a redesign.
Low scroll depth
Insufficient scroll depth is a real cry for help from a service asking its owner to build the website redesign plan.
Nowadays, entrepreneurs pay more attention to track their resource scroll depth, since they realize its significance. The tool reflects users' interaction and engagement with the site content, even when the audience checks only one page and then takes off.
The service scrolling depth could be defined by means of the Google Tag Manager. The given instrument helps with monitoring how much down users were scrolling to view the page, so you'll see the percentage. While setting up the configurations in a certain way, you'll manage to get reports on visitors who scroll, like, 10%, 25%, 50%, 75% or 100% of a particular page. After analyzing your resource you'll figure out whether you need a website redesign or not.
Given Google metrics could be applied, say, to show if the target demographics read long articles and to pursue certain measures, in case users enjoy no more than 25% of the material only. Undermentioned circumstances service owners could follow the examples of website redesigns to break down long articles into shorter featured stories and essays, hence, the platform scrolling depth would improve.
There exists another solution to track the scroll depth - Heat Mapping. Cormac Kinney is the one who invented such a visual analytical instrument in the late 1990s. Applying heat maps site owners will surely know what exactly users do at the website by means of their mouses. The data obtained is represented as a two-dimensional graph, and specific colors display the values.
The service shall give you a deep analysis revealing true insights on users' behavior while visiting a web page. Reports present not only where the audience stopped scrolling, but also what they scrolled pass, from what point they started scrolling again, and where exactly they dropped off permanently. Those would be priceless details to optimize the resource boosting its conversion.
The data obtained by means of the programs mentioned above could form the basis of your website redesign strategy to refresh your site and to strengthen its performance.
Doesn't allow to use digital marketing
Digital marketing is one more important aspect of website redesigning. In case you're planning to carry out aggressive promotional campaigns, taking care of search engine optimizations, running content marketing, and the like, your web service shall better be ready to manage all the processes with high efficiency.
If your platform doesn't meet the requirements of the present, you're most likely to face certain SEO difficulties. Your company would suffer, if your site is ranking somewhere at the bottom of the Google search engine, and poor optimization could cause such a weak performance. To save the day you could seek website redesigning services.
Building and implementing the website redesign plan you'll manage to resolve possible SEO issues, better search engine positioning, and strengthen your digital marketing strategies as a whole.
Moreover, when you were developing your web resource, say, 5 years ago, you had goals and objectives which most likely aren't relevant anymore. Is your service ready to go through those necessary changes?
Speaking of the existing platform being built 5 or more years ago, most probably they have an out of date content management system or poor call-to-action activities. Remember - the absence of must-have platform parameters shall obstruct all marketing effort you put. Fixing something locally here and there won't bear substantial results and will be more like desperate attempts to salvage the situation.
If today your objectives and strategies are diametrically opposite as to your original goals, redesigning your existing website shall get things properly fixed.
Complaints from users
If your users file multiple complaints to your platform support, or in case they email you a lot expressing their dissatisfaction with your site, you realize something isn't quite right. Are your clients complaining on the phone and during personal meetings? Then you have serious reasons to think about creating a website redesign strategy.
Being user-unfriendly, a site displeases and frustrates its visitors, thus, this could be a possible source of your users' discontent. According to statistical data, around 88% of the online audience isn't willing to visit a web resource after having an unpleasant experience with it, and that's pretty understandable.
Thanks to multiple advanced technologies people got used to the best, meaning, only fast loading speed, solely intuitive navigating, entirely perfect design, and the like. And this is exactly what a website redesign does.
Some companies strive to have a wide range of their goods and services, and they'd like to communicate with every person who visits their service. However, when showing every product and describing each offer you risk to completely overwhelm your visitors, so they won't even notice the most valuable items you provide.
If it's rather complicated for the audience to explore the content, and when users are struggling to figure out what a platform offers, without a single doubt, customers would start off on the wrong foot, and most like would have no desire to come back to the visited site again.
The website redesign checklist for the upcoming 2020 will do the magic-making your web resource convenient and user-friendly, so people will enjoy all its advantages, and so will you.
Difficult site navigation
And, finally, we have one last symptom to consider existing website redesigning.
Indeed, proper site navigation matters. The feature serves to show visitors their current web location, the pages where they came from and screens they still could visit. If at any point the guiding connection is breaking, the audience might get confused or frustrated, and would rather abandon the program.
Once it happens, the volumes of sales and the number of returning users go down, but the number of frustrated customers and the bounce rate go up. It doesn't sound very optimistic, do you agree?
Do not despair! There's always a way out - wise planning together with adequate website redesign strategies shall fix the issue, so the audience could navigate the platform easily enjoying their online experience.
And Google Analytics shall come to the rescue once again. The tool clearly shows your visitors' behavior, and you'll see the path users take at your web resource, so you could identify pages people prefer to leave. Then you'll know what exactly has to be refreshed.
The true value of website redesign could be assessed and understood by how such a process can transform and refine your navigation, and, who knows, you might get pleasantly surprised with the outcome.
Every point mentioned above shall help you analyze your platform from a completely new angle to realize if it is the right time to redesign your website. Don't be afraid to be different and test new ideas. Would you like to give a second life to your web resource?
---
Rate this article
0 ratings, average 0.0 of out 5
---
Get in touch
Send us your comments, suggestions, questions, or feedback.