8 New E-commerce Applications Features From Worldwide Leaders
Published on:
April 10, 2022
Last updated:
March 20, 2023
Suppose, you have an online store, maybe, a marketplace, and you skillfully mastered all the tricks that the top e-Commerce websites use. But you realize it's time to move on and create an application in addition to the web resource. It means you have to figure out the major trends in the mobile industry and choose key features which should supplement your program.
It's really important, for you want to provide customers' ideal shopping experience and thereby expand your buyers' audience (and with it, you'll ensure sales growth). So, take the time to read our mobile shopping tips and find out the variety of new features worthy of your attention.
Voice search
Voice technology is becoming increasingly popular day by day. This is one of the most favourite app features for mobile programs of various types, including m-commerce.
Google claims a 20% share of voice requests. Bing expects that in 2020 voice requests will have reached 50%. Such a demand is understandable: people prefer to talk instead of typing: we can pronounce 150 words per minute, and type only 40 ones.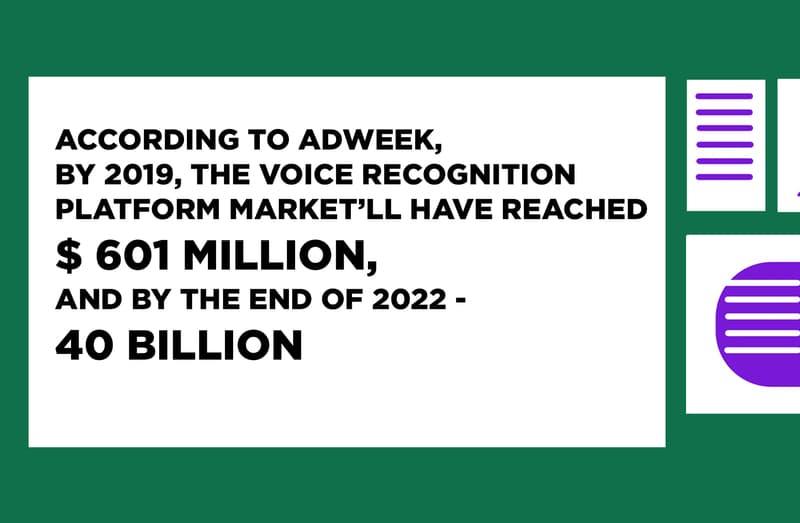 So the voice assistant is a great feature to improve the customer experience. After all, why type the product name when you can simply ask the application to find store items you need?
The advantage of using voice assistants
All innovative mobile shopping apps have voice search, but if you are still in doubt whether to add the feature, we'll list its main advantages.
An increase in traffic. More and more people start using voice search technology, increasing your traffic.

Expansion of the audience. Following up-to-date mobile commerce trends, you'll surely attract the additional audience of users (they are also your possible buyers).

Strengthening customer loyalty. As we've already told you, speaking is easier than writing. And the fact that you don't force them to make too much effort will positively affect the loyalty of users.
Voice Search Leaders
Google: personal assistant Google Now on Android, Google Voice Search on Google Chrome browser, voice search OK Google on smartphones and smart watches.

Apple: Siri on iPhone, Apple Watch and macOS Sierra.

Microsoft: Cortana on Windows Phone.

Amazon: Amazon Alexa voice search integrated with Amazon Echo column.

SoundHound: Hound application with voice and music search (it works with Android and iOS smartphones).

Nuance: Dragon, a set of speech recognition and computer management software for personal and professional purposes (PC, Mac, as well as Android and iOS).
As you can see from the above list, Amazon, a real monster in the e-commerce field, successfully uses the described app feature to spur sales. The approach is definitely worth taking as an example!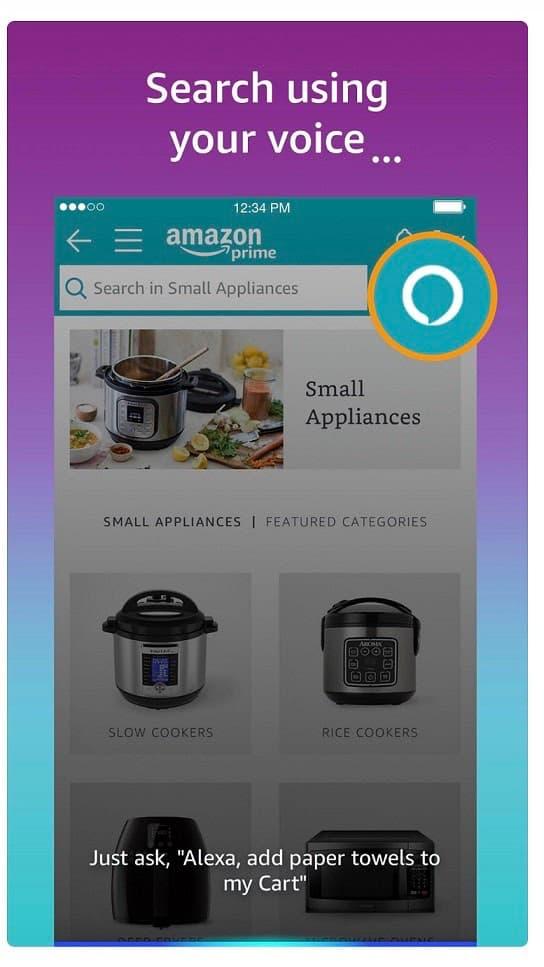 Deep linking support
Complementing your e-commerce site with a similar application, you, of course, want to get more profit and attract new customers as efficiently as possible. There are a number of the shopping app features helping to achieve such a positive effect, and deep links are one of them.
The usual link leads the user to the main app screen (or sends him to App Store or Google Play), and the person has to independently search for the section he needs (if he isn't too lazy to do it!). Agree, the described approach is hardly the best one to keep a potential buyer. And that's when deep links come to the aid.
Imagine: you have a shopping app, and you decide to arrange an annual sale of shoes (shoes are just an example) in honor of Black Friday. You start to promote your campaign in social networks. Ideally, tapping the banner should immediately lead the user to the advertised page (because he won't look for it after finding himself on the main screen, he's likely to leave the program, to your disappointment). In addition, you probably want to know how many customers have come and who they are, how much time they've spent in the app, and so on.
Deep links can do all this! That's why they belong to the number of major trends in the mobile area.
Let's summarize: the feature allows you to lead the user to the desired app screen, collect statistics, monitor the effectiveness of various channels, and analyze the behavior of customers within the application. It's great, right?
And before proceeding to the description of other new shopping features, we'd like to highlight one of the applications which have benefited from the use of deep links. We mean Instacart.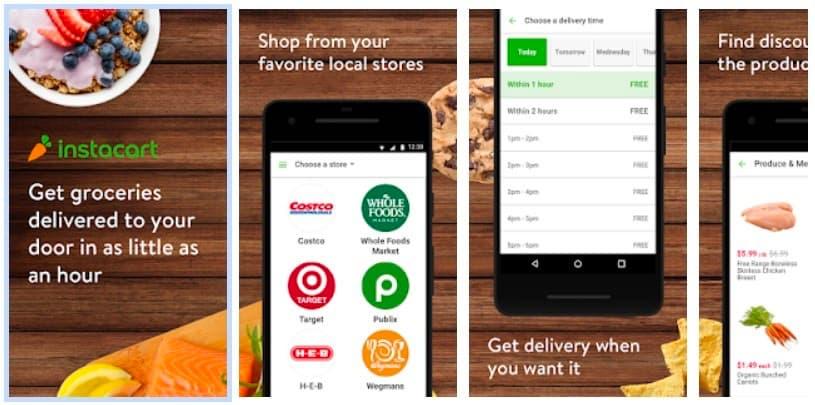 This is a grocery delivery organization working in the US. The app owners use email marketing mechanisms to find new customers, but until 2016 the result of such efforts was lower than expected. The reason was that the letters didn't lead users to the specified sections. But in 2016, when Instacart started taking advantage of deep links, the situation changed, which had a positive impact on sales.
Wishlists
Wishlists also deserve to be part of your service.
The advantage of this feature is its ability to turn a person who isn't ready to be a buyer yet into a possible future client, to give him a chance to join the ranks of your customers. In the end, sometimes the user likes a certain thing, but he cannot afford to buy it right now (for financial or other reasons). Such store items can be added to the Wishlist and purchased later, under more favorable circumstances. So we're talking about a kind of smart shopping lists which become relevant at the most convenient time.
Among our projects, there are those whose functionality includes the wishlist feature -  for instance, an application for exchanging and selling books and B2B marketplace app. In the last case, the user can collect images of store items he'd like to have and, if desired, share them with manufacturers.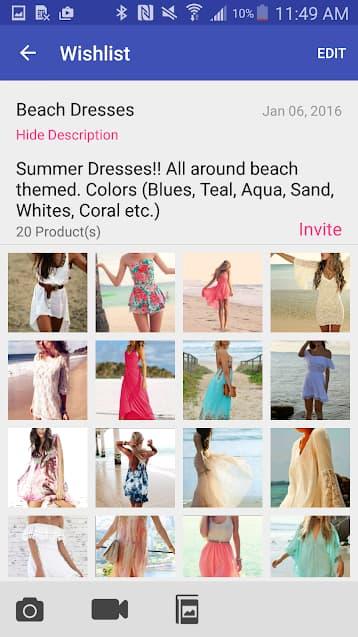 By the by, some businessmen turned the Wishlist into a separate application - among them, there is a mobile program named myWishBoard.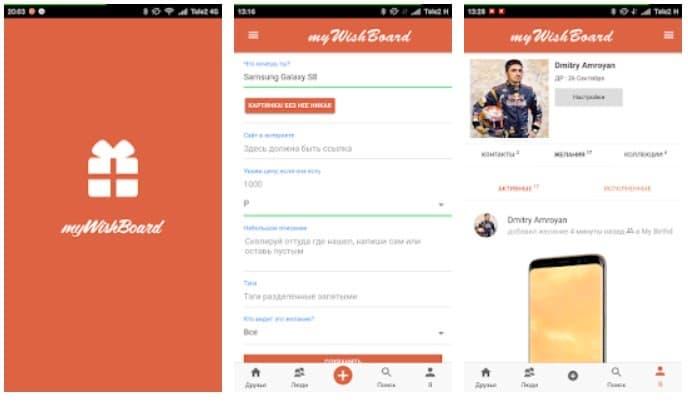 This is a real social network focused on those who like to give and receive gifts. myWishBoard allows users to add their desires and share them with app friends. A person will be able to see how many likes his desire has gathered, and how many people want the same.
And if such apps are gaining popularity, then you're just obligated to supplement the list of shopping app features with a Wishlist.
Chatbots
Chatbot also belongs to the new app features of an online store or marketplace. In fact, this is a program which mimics human communication with text or voice. Chatbots help automate tasks by working on a given algorithm. At the user's request, they provide necessary information (say, a weather forecast or a currency exchange rate) and help people accomplish simple tasks (such as booking tickets and ordering a taxi). When it comes to mobile commerce, chatbots can answer a user's question, offer the right product, etc. - simply put, they ensure full customer support, in a  24/7 mode.
Chatbots can be divided into 2 types:
Simple programs. They're able to recognize text or speech by defining keywords and transforming them into instructions. Then the chatbot responds according to the specified algorithm.

Self-learning program. These chatbots work on the principle of artificial intelligence, learning in the process of communicating with users. They analyze the dialogues and adapt to the individual characteristics of the person. A prime example is Apple's popular Siri assistant.
Of course, the second type of chatbot will help create customer experience more successfully than the first one.
Buy with friends
We all love to save, and our customers are no exception. And by giving them such an opportunity, you attract new users.
You can save in different ways, and, among other items features of the sort, we'd like to mention the possibility to buy with friends. AliExpress gives a striking example of its implementation.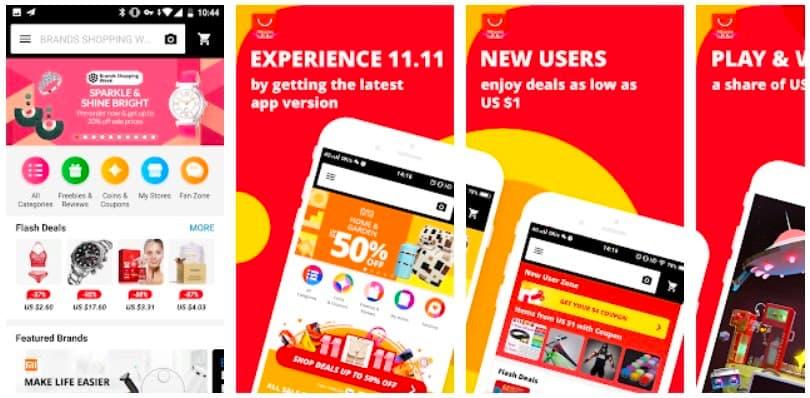 The application allows its user to buy goods at a discount of up to 90%, provided that the purchase is made with a friend, colleague or even a stranger. Acting this way, AliExpress encourages people to persuade their friends to buy more and often, which is beneficial for all parties to the process.
You can come up with a similar approach to discounts, the main thing is to make an offer which is pleasant to the user and not expensive for you.
Augmented Reality
If you're still wondering what is a key feature of successful m-commerce applications, then our answer is augmented reality. Believe us, when the app takes advantage of technology which deals with AR and VR, the chances of finding more new customers can increase significantly. And, very possibly, you'll even join the ranks of the market leaders.
Let's explain by example. Say, a person is thinking of buying some piece of furniture, but such a purchase is obviously not cheap, and he wants to be sure it'd be justified. What if a chair, table or sofa doesn't fit into the design of his room? Previously, people had to rely on their imagination and luck, but today we can use the capabilities of AR.
We won't go into details now (we've already done the work in our article), just remember: to create a customer experience able to increase buying activity, supplement your program with AR technology.
It'd be appropriate to recall Ikea which decided to implement the AR feature to increase the number of online furniture sales. The plan was a success, and sales had skyrocketed at a fast clip!
Amazon also takes advantage of such favourite app features as AR. Even if the user isn't going to make a purchase, nothing prevents him from seeing how the new laptop would look like on his desk. Maybe, what he sees would be so attractive that he wouldn't stand the temptation to acquire any of store items?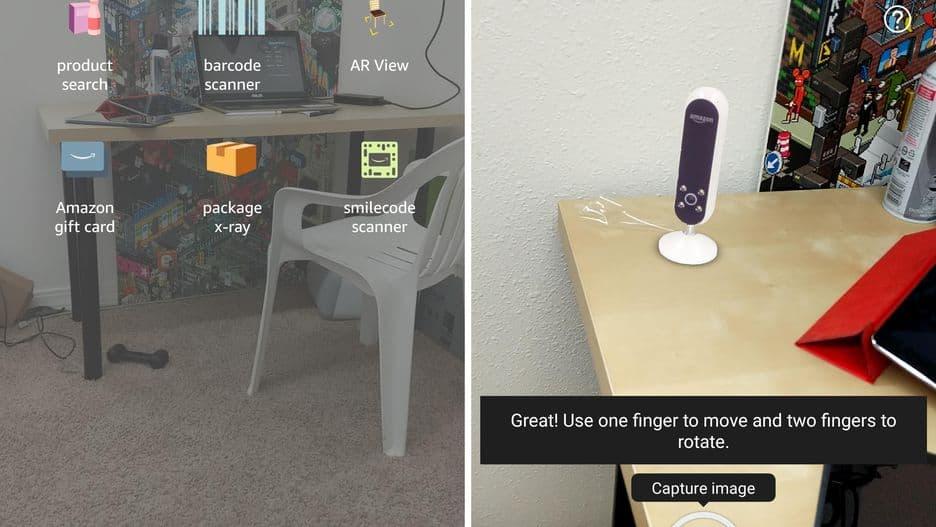 By the way, we, too, implemented this key feature when working on the B2B marketplace app (we've mentioned it earlier). The application offers its users to explore the product before the purchase with the help of augmented reality.
Multiple payment options
A great way to increase user retention rate is to provide your customers with the choice. This applies to everything and the payment possibilities aren't the last item on the list. In the end, when it comes to money, people become especially suspicious and picky. Don't give them a reason to doubt, on the contrary, demonstrate you can be trusted and you think about their comfort. So, among other m-commerce mobile apps features, add multiple payment options.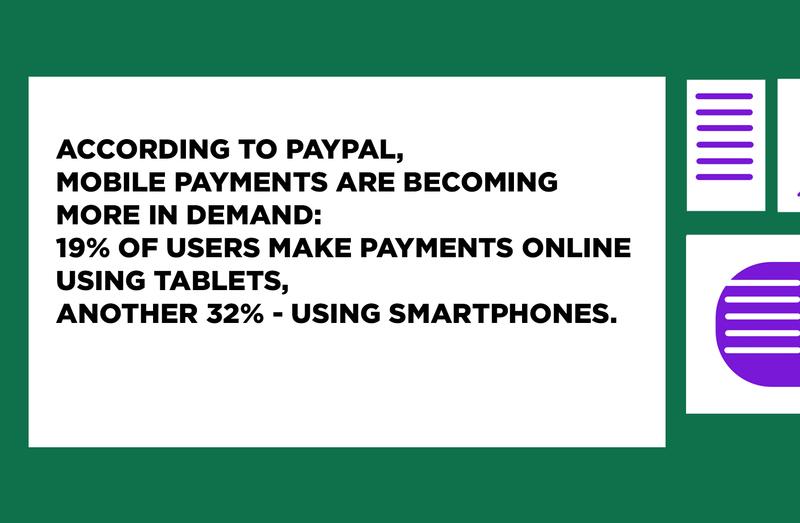 A couple of helpful tips:
decide on the method of making a payment: a mobile site, application or payment via smartphone at points of sale or on delivery;

inform customers how they can pay for your goods or services. And don't limit them to only one option!

make sure the payment page is an organic part of the application and designed in the same style;

provide the buyer with the necessary information on the stage of the processing of his payment.
 We discussed the integration of payment gateway in mobile apps in one of our articles. Read if you're interested in details.
Barcode recognition
Among other mobile commerce trends, this one is also worth mentioning. Yes, barcode recognition has won arresting popularity among users.
The point is simple and clear: you can scan the barcode of a product using the camera of your smartphone and get all the available information about it. Many great mobile apps have such a wonderful and helpful feature - the same Walmart, as an example.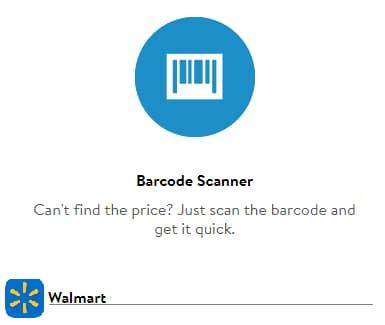 We also implemented barcode recognition when developing our bookselling app. In our case, the feature works as follows: a person wants to sell his book (or exchange it), but he is too lazy to enter the detailed information about it. He just needs to scan the barcode (or ISBN code), and the data required will be obtained (if available on the Internet, of course). Simple, convenient, efficient!
Some last tips
Finally, we'd like to give some more useful tips:
Security. Your application will deal with a transaction of funds, and therefore pay special attention to mobile security and shopping safety tips. Your program should be reliably protected from hacking and attacks.

Delivery. Make shipping easy, clear, and convenient for both the supplier and the buyer.

An in-app error checkup feature. This feature also plays an important role, since the absence of errors in the application is important if you want to retain users.
We've given you some ideas to create great mobile apps by describing the latest trends in mobile commerce and are now ready to offer our practical help. Agilie team would be happy to work hard to provide you with a cool and effective application.
Let's create a unique, competitive customer experience together! Contact us.
---
Rate this article
0 ratings, average 0.0 of out 5
---
Get in touch
Send us your comments, suggestions, questions, or feedback.